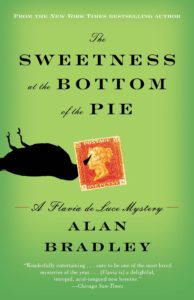 A Thrilling Cozy Mystery Series Start
Author: Alan Bradley
Eleven-year-old Flavia de Luce lives in her family's crumbling English mansion, indulging her love of chemistry and poisons, occasionally tormenting her siblings, and helping the eccentric gardener through his bouts of violent shell-shock. For Flavia, life is one exciting potion after another, until a dying man appears in the garden patch and breathes his last into her excited  face.
As Flavia tries to tie the clues together and figure out who is the real killer, police start to hone in on her retiring, pillarist father, who spends his days pouring over his stamp collection or sitting in his long dead wife's defunct Rolls. Could this quite man really have killed? Or was it perhaps the gardener? Or maybe someone else who is still skulking around the estate with unfinished businesses? It's up to Flavia to find the ingredients of the perfect concoction for mystery and murder.
The Sweetness at the Bottom of the Pie is a quirky mystery with an intelligent heroine, a delightfully moldering atmosphere, and a sinuous trail of cross-continental cunning and betrayal. From the first page, it was obvious that I'd fallen into something entirely different. Flavia is not your regular eleven year old. Something about her is definitively creepy, in the tradition of Wednesday Addams, from her adoration of all things poison to her thrilled reaction to seeing death up close and personal. She is a little bit sociopathic, yet she avoids being off-putting through both her cleverness and her snarky humor. Flavia is funny and dark, but there is still something relatable there, even though she does give us shivers sometimes.
Flavia is also a force to be reckoned with. As the police follow false leads, Flavia's curiosity transforms into something more altruistic as she attempts to save her father (who may or may not be innocent) by unraveling his past. Only Flavia can trace down what really happened and follow it back to a far older, far more dire shenanigans that goes all the way to the top (think the King.)
The Sweetness at the Bottom of the Pie is a fun read, both cozy and yet intelligent. We get a lot of back story, on stamps of all things. Usually, this would have me moaning in boredom, but Alan Bradley uses this eclectic hobby to full effect, staying true to the atmosphere of bygone times and strange obsessions. Flavia, as with all true sleuths, is soon deep in the mire and at the mercy of her own discovery, which leads to some edge of the seat moments. It's perfection.
Before even finishing, I had already hopped online and bought the next in what (to my delight) appears to be a substantial series. While Flavia's age is unrealistic (no one is that smart and deadly at eleven), the atmosphere and characters synched so perfectly that I was soon lost in this unique creation. Fans of mysteries and fans of cozy atmospheres, old manors, creepy libraries, and a just a dash of poison will fall in love with Flavia and her darkly amusing world.
– Frances Carden
Follow my reviews on Twitter at: https://twitter.com/xombie_mistress
Follow my reviews on Facebook at: https://www.facebook.com/FrancesReviews

Latest posts by Frances Carden
(see all)