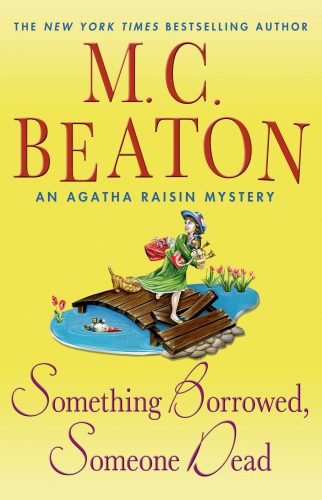 Something Borrowed, Someone Murdered
Author: M.C. Beaton
Agatha is bored, and that is always a dangerous thing. The recession has lessened her caseload to the point that even the bemoaned missing pets and adulterous spouse cases are absent. There is no potential love interest on the horizon, and worst of all, Agatha is trying to give up smoking. At first, a strange and violent murder in the nearby village of Piddlebury seems like something to break up the tedium. But soon, Agatha becomes afraid of her own case as the bodies start to stack up.
It began with Gloria French, a new woman in the closed off village of Piddlebury. A newcomer really is news in Piddlebury, and Gloria's charities start her out on the right foot, at least with the village vicar. But soon the pushy Gloria, who borrows and never returns, has alienated everyone in the village. It's anybody's guess who poisoned her. The real question is – why is the entire village suddenly afraid, suddenly quiet? Why is their blood on a weird stone in the woods, and what exactly is in that deadly Elderberry wine that keeps showing up?
Something Borrowed, Someone Dead is the twenty-fourth in the ongoing Agatha Raisin cozy mystery series, and as such, we know exactly what will happen. Agatha will fret about her age and love life and her on-again, off-again friends who are sometimes lovers and sometimes sidekicks. She will be jealous of Toni, and Toni will hate Agatha's interference. Sometime during all this chaos, Roy Silver will show up and put himself in harm's way, and eventually the answer to the mystery will fall into Agatha's lap. And . . . that's exactly what does happen more or less. It's actually pretty delightful.
This time Agatha's man-obsession is remarkably restrained. There is a brief moment with a newcomer, but here the plot is more focused. Agatha is finally done with the errant and brusque James and, more or less, Charles Fraith. Everyone is down to business here, and the teenage saga feeling has, thankfully, taken a back seat. Agatha is almost mature (for her) during this episode.
Toni, on the other hand, is having her own male crises. She prefers older men, and that just keeps getting her in trouble. When she goes to James for some comfort, an ill formed romance begins, and this time it's not Agatha's jealousy that's in the way. The side story was expected, but not poorly done, and not too melodramatic.
In the meantime, the closed-off village of Piddlebury is absolutely swarming with criminal intent. Agatha bumbles around and asks her usual questions, and her friends and associates put themselves in harm's way a thousand different times. It's not good detecting, but the story is engaging nevertheless, and the actual killer was an interesting reveal.
What's weird is that after the killer is caught, there is an hour left in the Audible narrative. This is the new twist that has shown up in the last several books, with an irate killer reaching beyond the bounds of prison, wanting one last bit of revenge against the nosy sleuth. It turns out kind of odd this time, with a peculiar mixture of witchcraft thrown in for seeming B movie effect. Honestly, it would have ended best with the usual confrontation / Agatha nearly getting killed. The extra hour and the thwarted revenge feel oddly tacked on.
Another thing that I want to complain about in this one in particular (and the series in general) is the representation of religion. Agatha and friends call a local vicar crazy for praying for a revelation of the killer. They soon mark him off as "a religious nut" for this, and it's frankly insulting.
I continue to enjoy this series for what it is, and just have to come back for some cozy Carsley time every now and again. I look forward to Agatha's next misadventure and hope the normally levelheaded Toni goes back to her role of the sensible character.
– Frances Carden
Follow my reviews on Twitter at: https://twitter.com/xombie_mistress
Follow my reviews on Facebook at: https://www.facebook.com/FrancesReviews

Latest posts by Frances Carden
(see all)