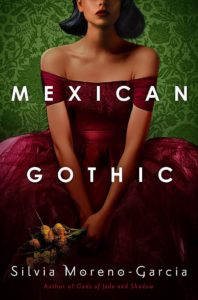 Classic Gothic Meets Surreal Horror
Author: Silvia Moreno-Garcia
Noemí Taboada expects new dresses, shimmering red lipsticks, suave suitors, elegant parties, and clever conversation. As a glamorous debutante in 1950s Mexico, she would have it no other way, although her frivolities belie her one serious intention – to get her father to send her to college. And her chance does come, but it means a temporary end to the parties and a strange trip to the desolate Mexican countryside to rescue her newlywed cousin, Catalina.
Catalina was always as vivacious as Noemí, although in a more dreamy, Grimm's Fairytales kind of way. Catalina loves dark stories and brooding suitors and all things that pertain to gothic romance, mystery, and adventure. And so, her running off to marry some grim Englishman isn't a complete surprise, even if it is a bit of a scandal. Her sudden silence followed by a strange letter, months after her elopement, are out of character though and, quite frankly, frightening. And so, Noemí becomes the unlikely emissary, intent on making sure that her cousin is not being mistreated and proving herself serious under all the cocktail hour banter. But Catalina's new home is something more sinister than any of the well meaning Taboada's could possibly imagine.
Journeying from the high-paced city life to the craggy, mist shrouded forest of the country, Noemí enters her cousin's new home, High Place. A once majestic mansion, High Place has deteriorated along with the now closed family mining business, each room sporting the decaying remnants of the past, dank molds crowding over once glorious wall paper, everything spongy and crumbling, dour visages trapped in time and framed on the wall, a constant testament to a violent past and creeping insanity. Here, Noemí meets her cousin's menacing husband, Virgil, his cloying grandfather, his aunt Florence, the rude family doctor who doses and hides Catalina, and a few silent, zombie-ish servants. Only one person at High Place shows Noemí any consideration, Virgil's younger brother, the pallid Francis, who spends his days wondering the grounds for mushrooms, making spore prints, and warning Noemí to leave while she still can. As surreal nightmares grow and the house becomes a living, flesh walled thing each night, Noemí slowly discovers what her cousin already knows. Rumors of madness and revenge; family discussions of eugenics; cannibalism; hidden graveyards;  golden flecked, screaming figures; terrifyingly lustful dreams; and visions of a bloody past flit before Noemí's eyes as the clock ticks backwards and her freedom is expertly eroded.
It's hard to write about this book – to articulate how subtly transformative and viscerally alive it is in all its palpitating, sensual glory. Mexican Gothic is its own unique story, drawing on the feel and atmosphere of gothic novels, mixing in vivid grotesqueries that nonetheless fit the slow-burn tone of escalating paranoia. This is a book where the walls, spotted with mold, slowly (at first) press in, and by the conclusion the claustrophobia is just as terrifying as the violent revelations. Moreno-Garcia mixes many genres, many feelings, and emerges with something spectral, more than a little bit weird, and breathlessly enthralling.
I always read multiple books at once (with a current stack of 12), yet the more I read Mexican Gothic, the more I found the other books dropping by the wayside until it was just me and this fungus fueled story; me walking those veined halls at night with Noemí; me watching her float in a bath, surrounded by figures who may or may not be there, a ghost who may or may not be sending her warnings, a graveyard where something else may live. This book takes its time, and while we sometimes wonder just why visitations with Catalina are so short, we soon become attached to Noemí, the fish-out-of-water who wears party dresses in the graveyard and goes to town to trade fancy cigarettes for the family's backstory.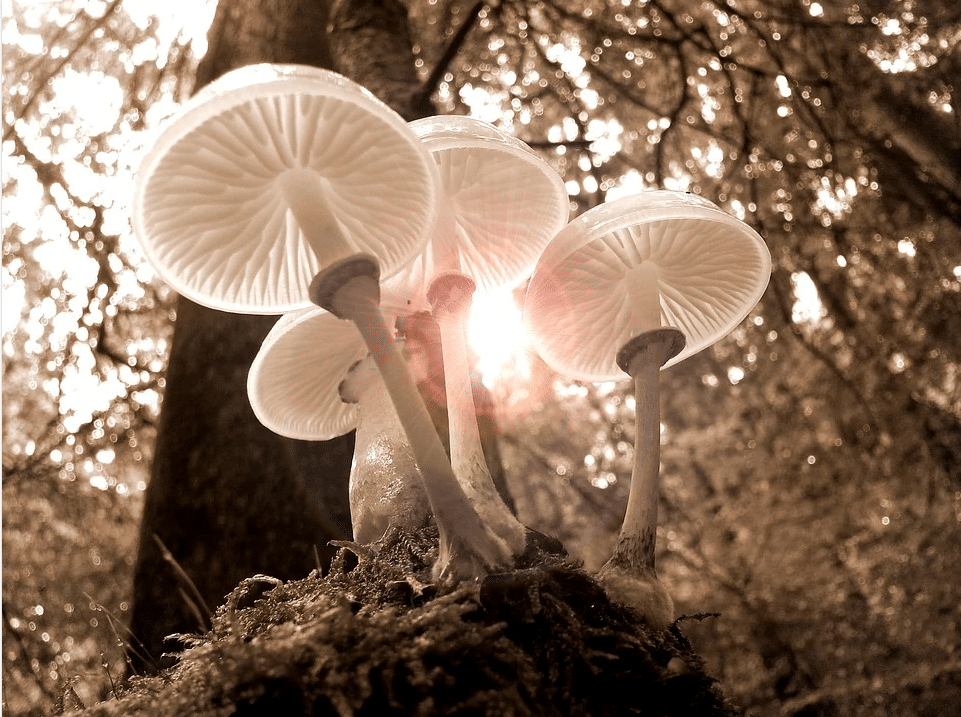 Noemí is both likable and not, both complete and surface. She is more than just a party girl; she does, after all, have a heart and wish to do the right thing, even though she is obviously hopeless from the beginning. But Noemí takes a backseat to the story of Catalina's new family: the Doyles, whose old money is long gone and whose history in town leads them to be feared. Stories of old plagues, abuses at the mines, and a daughter who shoots-up her own family intermix with what the walls start to tell Noemí. These are no ordinary ghosts, and before long Noemí is her own backstory as we watch the walls close in around us.
Mexican Gothic is both subtle and gruesome. We don't get a lot of seeable gore, but plenty is hinted at and more is delicately shown. This is a story with guts and hard topics – triggering topics, some may say. It's hardly for the gore-hounds, but there is more than enough to take this beyond the traditional gothic hints into the realm of true horror, especially once the slow burn transitions to the final, breathless reveal where a lot happens very quickly.
I could keep going – there is so much to love here, so many things that are well executed and original, and the feeling, that intense disquiet merged with descriptions and evocation – oh, it's just beautiful, sublime even. I didn't want the book to end, and weeks later I am still thinking about it, talking about it, even decorating a wall in my house with mushroom prints, a newly awakened obsession thanks to the half beautiful, half horrifying imagery of the golden specked apparition. You won't figure it all out until the end, although enough hints are seeded to get you halfway there, and even when you know, it will still keep living behind your closed eyelids, especially with that ending, that endless creeping sense, that "what if" that echoes quietly after the sound of the last page falling, slowly, into place. There is no end, only fear, and a knowledge that can never be shared, an experience that no party, no daytime dreams, will ever, even temporarily, dim.
– Frances Carden
Follow my reviews on Twitter at: https://twitter.com/xombie_mistress
Follow my reviews on Facebook at: https://www.facebook.com/FrancesReviews

Latest posts by Frances Carden
(see all)