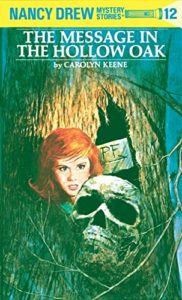 Nancy Goes on a Treasure Hunt
Author: Carolyn Keene
In her 12th revised Flashlight adventure, Nancy Drew has been asked by a group of perplexed detectives to look for a missionary's long lost treasure at an archeological dig when things go from bad to worse. Hot on her heals, the infamous huckster, Kit Kadle, is willing to do anything to grab the treasure for himself. If that means intimidation and ultimately kidnapping, then so be it. Will Nancy be able to protect the archeological site and her new friends while still finding the treasure before Kadle strikes again?
This particular Nancy story is a refreshing change from the usual pace. Nancy has pulled up stakes and gone to solve a mystery that is part who-dunnit and part old-timey exploration/adventure. The added atmosphere of the dig is an interesting choice (with skeletal remains populating the background) and, Nancy's new friends add an element of tension, especially the dashing Art whose assistance is symptomatic of a deeper attachment that could spell trouble for the Nancy/Ned combo. The cast continues to grow as Bess and George, their boyfriends, and Ned, join together to help Nancy track both the treasure and some inconveniently kidnapped students. Perhaps the old oak with the missionary's secret and his treasures is doomed to go undiscovered or, worse yet, fall into Kadle's criminal hands.
As with all the Nancy books (at least the Flashlight editions from my childhood) the story is hardly realistic. If you're coming here looking for anything other than some fun and a dash of cozy, you're in the wrong children's mystery series. Nancy and friends, as al
ways, will be in constant (easily avoidable) danger, the villains will be both evil and kitschy, and after several near-misses with terrible fate, Nancy will wrap everything up nicely and hint at her next adventure. The Message in the Hollow Oak is no different as it keeps pace with the series' style. It's a children's story that introduces the love of reading and mysteries without ever going too far into the gory realm of true gumshoeing. Throw in some 1950s mannerisms and you have a story that is predictable yet fun and ultimately feel good while still having a mystery that is intellectually stimulating, if simple.
One word of warning – the books are old, and while most of the old sentiments are wholesome, some of them are staples of their time. The archeological dig here is bringing up Native American skeletons and the students treat these more as ancient relics than as real people, meaning you can forget respectful and solemn treatment; and yes, one of the "display" skeletons is totally a set-up for a predictable fright scene. If you are reading this book to or with a child though, this portion of the story can be a good transition into a more serious and deeper conversation, just be prepared.
Overall, I particularly enjoyed Message in the Hollow Oak. It was different from the Nancy stories that have gone before, while still keeping to the appealing flavor of the series. I liked the look at history, the talk of archeology, and the exploration of the (suitably dangerous) forest. It's good to change up the scenery, and I am more than susceptible to treasure hunt stories of any kind. And now, onward to the next adventure . . .
– Frances Carden
Follow my reviews on Twitter at: https://twitter.com/xombie_mistress
Follow my reviews on Facebook at: https://www.facebook.com/FrancesReviews

Latest posts by Frances Carden
(see all)