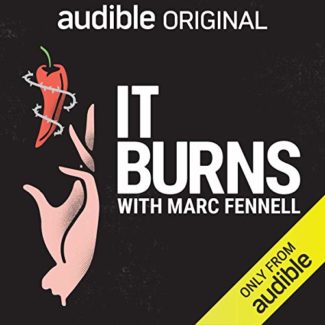 Love, Lies, and Chilies
Author: Marc Fennell
Whether you like to grow the occasional porch Jalapeño or snort chili powder online for your adoring YouTube fans, this Audible book/podcast series is a must. I've long stuck with Audible, despite the price, and part of that is thanks to the monthly book recommendations with It Burns: The Scandal-Plagued Race to Breed the World's Hottest Chili being one of those. This book/podcast series got added to my queue because I love growing Jalapeños and assorted hot peppers, and while my husband shuns all forms of spice, I come from a line of pepper lovers (I've often seen my dad praising a meal that was also causing him to sweat.)
Apparently though, there is a lot more to the world of peppers than food (who knew) and the heat level is taken to the extremes from competitions to jealousies, schemes, and world records. Let's take a closer look.
Marc Fennell, our writer and host, starts us off on a rainy day, waiting for a tornado, standing in the mud with a group of people determined to have their hot-pepper endurance eating competition or (very nearly) die trying. It's not unusual to see tears and vomiting as the contestants go from the mild to the hot to the extreme, where flavor takes back stage to pure, scalding energy. These then are the true chili heads who are our first taste of a blistering world of scandal and one-upmanship that is just as fun as it is utterly off-putting (sorry Internet, I will not inhale my Jalapeños, even for YouTube fame.)
No other mammal on Earth will willingly eat chilies, except, of course humans. We love a little spice in our food and what is nature's defense mechanism is merely our gastronomical delight. We're also a group of mammals know to take things way beyond the rational. The quest to breed the world's hottest pepper, and survive consuming it, ranges all the way from the arid Mexican border to the USA to India, where those elusive Ghost Peppers originated (and, incidentally, were discovered as part of a military plan to use these hotties in battle).
The Trinidad Moruga Scorpion, with an SHU (that's Scoville Heat Unit for those of you who are uninitiated) of 2,009,231, used to be the world's leading champion. To put that in perspective, my beloved Jalapeño ranges from 2,500 to 5,000 SHU. Of course, any self respecting Chili Head just had to get a taste of the Scorpion, but then the very pillars of the tight knit, yet international community, was shaken when a man named Ed Currie brought the Carolina Reaper onto the scene. The world's leading pepper right now is still the Reaper, with 2,200,000 SHUs (you can have some fun and get your pepper on here: https://pepperhead.com/top-10-worlds-hottest-peppers/). The community wasn't thrilled with this new baddie in town. As a matter of fact, they still suspect foul play!
In It Burns, Fennell follows the twists and turns of the Currie debate, doing some international jaunting to meet the personalities and the peppers behind the contested title. Along the way, though, Fennell starts to think about what the idea of pain really means and what compels spice lovers to take that next step into the truly pallet charring reign of these million plus SHU beauties. Fennell delights the inner foodie but always has time for the person behind this reign of pain, finding out a lot about chilies and more than a little about the aches and pains people try to hide in their own lives.
By the time we've sojourned with him through the five episodes (if only he'd do, I don't know, a couple of hundred more) we have a new respect for peppers and, deeper yet, a greater understanding (dare I say empathy) for the people who replace their emotional pain by finding a new community, a new thing, and even an intensively painful thing. Fennell will go down some dark corridors, talking about addiction, abuse, and even sadomasochism, never losing sight of what supposedly went down in Currie's lab.
Does the Reaper deserve its claim to fame? Does the deposed Scorpion still, secretly, hold its rightful kingship? In what ways does the chili community embrace the pain of the past and take it to new levels of healing? Well, you'll just have to take a jaunt on over to Audible and take a world-wide journey with Fennell, who, of course, finally gets to taste one of these record breakers for himself.
– Frances Carden
Follow my reviews on Twitter at: https://twitter.com/xombie_mistress
Follow my reviews on Facebook at: https://www.facebook.com/FrancesReviews
[AMAZONPRODUCTS asin="B08DFNYSNJ"]

Latest posts by Frances Carden
(see all)