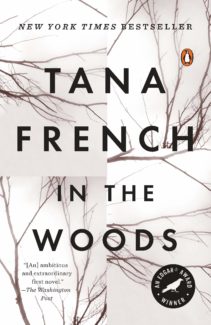 Mystery, Childhood Trauma, and the Darkness of Families
Author: Tana French
In the Woods begins with an atmospheric prelude, both oddly sunny and sinister, a kaleidoscopic image of children before blood, disaster, a sole survivor with blood-filled shoes left weeping, and unsolved mystery. Twenty odd years later, Adam Ryan (renamed Rob), is trying to piece together what really happened that day in the woods and who took, and presumably killed, his never-to-be-seen again childhood friends. Yet, he swears that this memory of the calm before the storm isn't responsible for his current career in the Dublin Murder Squad; that the secret desire for some sort of answer doesn't define his life. However, when a new case in his old village of Knocknaree opens, the tug of memory belies new possibilities. Are the cases connected? Is the 12 year old girl, found on a sacrificial stone by the remaining portion of his long-ago woods, a tie-in to the blankness in his consciousness, the decades of survivor guilt? Is an answer and some sort of justice finally within reach? As Ryan investigates he keeps his true identity hidden from everyone except his boyish partner, Cassie Maddox. This time, it's personal, and a life lived in silence can only be solved by more posing, further compounds of well-intentioned lies and structured personas. The past, however, has poisonous effects, compromising the entire squad and the search for a child murderer as Ryan confronts his own heartless brokenness.
In the Woods merges the beautiful in the ugly, creating something potent and vividly lyrical. We have sweeping descriptions, faded memories of laughing children running through blue-green woods compared with the stark realities of rape and murder, the underlying guilt and shame of humanity, and the corruption of even the most seemingly innocent. Like The Lovely Bones,this novel's sad aura does not replace its sense of beauty in the small things or its shining focus on the glorious soulfulness of language. It does, however, question everything and rip back the fakeness of humanity to show all the foul weakness and cowardice that pulsates beneath the surface. Knocknaree is like any other village or town for that matter – insidious in the ways of ordinary life. There are broken families, scheming politicians, selfish individuals with all manner of things to hide whether that be an ill-fated teenage romance or something even darker and more recent.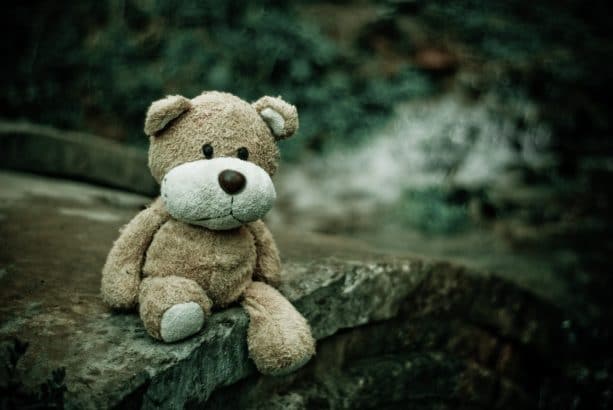 Ryan himself is no hero, but he also isn't the typical hard-boiled gumshoe either, although his history imbues him with a special set of insurmountable problems. Ryan tells the story and we sympathize with him, at least on the level that we are both interested in the two (maybe) related mysteries and somehow invested in the complications of his interpersonal life. Ryan's partner, Cassie, is a too perfect platonic best friend and later, something far less quantifiable. His other partner, Sam, is the forever naïve detective with a do-gooder attitude not yet soiled by the implications of power and protocol. Both are in the squad with questionable reasons, making the entire group into a sort of underdog investigation team. The triumvirate here, then, is formed of something that is both fragile and inexpressibly dedicated, and it's our empathy with Cassie and Sam, our understanding of them, however tainted by Ryan's own selfish focus, that truly leads us by the heart strings.
The mysteries weave together, touch, and then part. Ultimately, don't expect a full resolution to that opening scene, an answer to who or what was stalking the woods that day, waiting to snatch Ryan's childhood friends. Indeed, it's through this admission that not everything results in an answer and that sometimes a life of wondering, of pining, results in reduced clarity that Tana French's depressive detective story goes from good to unforgettable. This vagueness may not be the ending we want but when it arrives, we recognize it as the only true ending. The only real answer is that sometimes there are no answers. Sometimes, many times, you never know.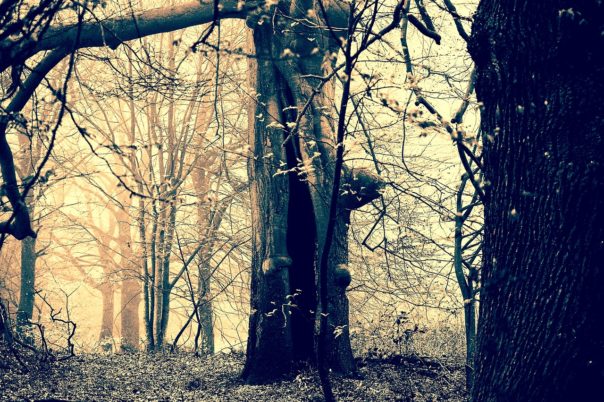 The modern day mystery that focuses on the thwarted childhood of one Katy Devlin, however, does have an answer, and it isn't buried in the past. As Ryan tries to make connections and restore memories, his rag-tag team's research leads to all sorts of possibilities from a wayward stranger to political machinations over the new highway that will destroy the historic dig where Katy's body was found. What is finally revealed, however, is more in line with Gillian Flynn's Sharp Objects, a depressive little nugget focusing on one truly skewed (read psychologically sick) reason for murder. I won't tell you who it was, or why, but if you pay close attention the clues will stack up and the crocodile tears will lead you (although not Ryan) in the correct direction.
Mesmerizingly melancholic, covered in a sort of pure energy that while sorrowful is nonetheless beautiful, In the Woods is a story that we just don't want to end. It's hard to explain this magic or even the full-force pull of Ryan's narrative. Perhaps it's something in the gently overlapping words, which like an ocean nudge against our consciousness and tease us with just-out-of-reach answers to the most horrible things. Perhaps it's the images of Ireland, starkly vivid in its greenery and imperfection. Perhaps it's the echo of childhood, a beautiful, unreal, and strangely safe realm to which we can never return, no matter how desperately we try. Perhaps it's the lingering sense of questioning that is borne within all of us, or the promise of fulfilled curiosity, knowing just how badly things can go while still, somehow living to tell about it. Perhaps it's all of this or maybe it's simply the pull of a well-planned mystery tied into realistic, fallible characters who struggle and yet soldier onwards. Whatever this dark magic is, readers will be sure to want more, even if we don't fully understand our own wanting in this landscape that ultimately disassembles and then discards all our forgotten dreams of safety.
– Frances Carden
Follow my reviews on Twitter at: https://twitter.com/xombie_mistress
Follow my reviews on Facebook at: https://www.facebook.com/FrancesReviews/
[AMAZONPRODUCTS asin="0143113496″]

Latest posts by Frances Carden
(see all)