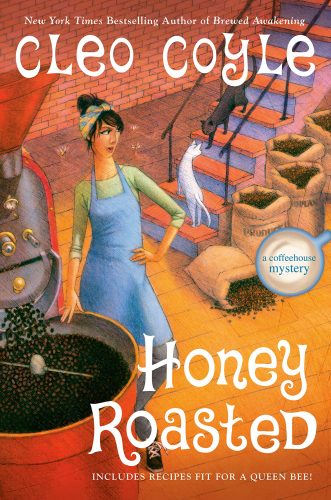 The Blend is Buzzing with Murder
Author: Cleo Coyle
It's here at last – the 19th installment in the ongoing Coffeehouse mystery series. Normally, by the time a cozy is pushing twenty books, the magic is long gone, as is the realism, and the dynamic characterization. What keeps this series still perking, however, is the husband and wife author duo's focus on relationship building alongside relevant and often quirky mysteries.
In Honey Roasted, The Blend is literary buzzing with bees, and it's not Claire's latest honey cinnamon latte that is causing the buzz. Claire and her ex-husband and current business partner, Mat, soon track the errant insects back to one of Madame's glitzy friends, the intimidating beekeeper and business woman Bea Hastings. When an errand of good will to get the swarm of bees back to their rooftop apartment home goes awry, Claire instead discovers wrecked hives and a nearly dead Bea, broke and bleeding from a supposed fall from her rooftop hive to her balcony stories below.
As Claire tries to take care of Madame's best friend and keep the bees alive, she follows the leads. The police suspect suicide, but Claire knows what she saw. The rooftop battle was an act of violence. As Bea's bees garner more attention because of their unique genetic setup, Claire follows the hubbub back to the source of the betrayal.
Meanwhile, as Claire and Mat work to defend Bea, protect her bees, and track a killer before he or she strikes again, the wedding is looming closer. Too close. Mike has been detached, focusing on a bizarre string of drug related body dumps, but is there more to his aloofness? Has the marriage become too real? Has our happy couple made a mistake? Is this the end of the road for the dashing detective and the coffee lady turned sleuth?
Honey Roasted begins with the sweetness of a new blend and a late night cohort of friends and coworkers planning the next best thing and then segues into some insect style horror. Soon, everything becomes about facing fears: from fears of failing relationships to escaping killers and more. The story makes a little too much use of all the honey and bee metaphors, making a truly dire setup a little too comical, but when the drama starts to pick up and explain the very unlikely bee-apocalypse Honey Roasted turns into one of Coyle's more cleverly crafted and enjoyable mysteries to-date.
Of course, there are still some last minute saves that defy logic, one of which involves a literal cowboy, but for the most part the plot stays focused on an intricate mystery that covers everything from love and jealousy to the honey making process and genetic engineering of bees. Some research certainly went into this sweet offering, and it really pays off. Part of the reason this series has remained relevant is its creativity. There is never a wash, rinse, repeat aura here, and each story has a different MO and some cool details that add dimension to Coyle's bustling yet oddly cozy New York world.
The relationship trauma with Mike and Claire, which I dreaded at first, actually worked into the plot very well, adding further depth to our characters. They both carry baggage: failed marriages, betrayals, and let downs, so the sudden cold feet make sense. As the two mysteries come together as one (you did see that coming, right) the tension escalates.
Honey Roasted was another great addition to the series. Now to begin the long, painful wait for the next book! I'm very excited to see the wedding and to listen to more of the delightful coffee talk.
– Frances Carden
Follow my reviews on Twitter at: https://twitter.com/xombie_mistress
Follow my reviews on Facebook at: https://www.facebook.com/FrancesReviews

Latest posts by Frances Carden
(see all)