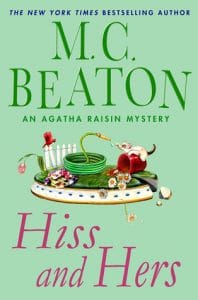 Author: M.C. Beaton
Agatha is at it again, this time taking a sledgehammer to her shelves in hope of hiring the dashing local handyman/gardener George Marston in Hiss and Hers. Wearing her highest heels, tightest skirts, and most expert makeup, an obsessed Aggie is sure that she can eventually capture George's romantic attention, but despite all her odd-jobs for him and "accidental" run-ins, George remains blissfully single. There is nothing for it but to throw a village fete and capture the first dance with the elusive gardener. The night takes a somber turn, however, when Aggie, wearing her evening finery, finds George dead and deposited in a compost heap. Once again, Agatha is forced to investigate to clear her own name, and it's not a pretty case.
It appears that while George thwarted Agatha's advances, he accepted nearly everyone else's, mostly women whom Agatha considers dowdy and unfeminine. As George's rocky history of love leads from one foiled relationship to another, it becomes increasingly more difficult to determine who didn't want to kill George. There's only one great clue: whoever the killer is knows how to handle venomous snakes – where to get them and how to ensure that the victim has no hope of survival.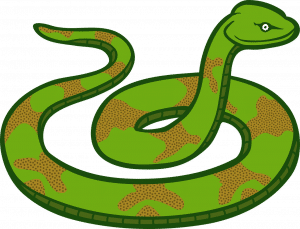 If you're still with Agatha 23 books into the series, you're already familiar with the tropes. Agatha maintains a teenage interest in men, an oscillating bad temper, a barely concealed bad self-image, and many rocky relationships. Her investigations are solved either by her clever younger detectives, each of whom are becoming more jaded in their own rights, or by sheer luck and dangerous bumbling. There will be the usual confrontation, the moment of near death, and the bodies casually stacking up as Agatha unwittingly puts more people in danger. There are the usual flaws with the formula: Agatha's rough edges and desperation are no longer charming foibles, they are serious character faults. Her male friends/occasional lovers Sir Charles Fraith and James Lacey are equally flawed and the on-again off-again nature of their relationships is trying in the extreme.
Nevertheless, if you're still with Agatha at this point, none of this is news and you've accepted it. Hiss and Hers doesn't deal with the problems, but it does present a pretty good and entertaining story with that cozy village flair that somehow still manages to stay alive. Agatha's detective agency makes for a realistic progression of clues and also allows for other characters to gather information, so it's a little more ordered and less haphazard. The snake angle here was actually pretty clever and the finale a little more tense than usual, despite a very out of character action by a surprisingly hardened Bill Wong.
Overall, Hiss and Hers is a good addition to the series: quick and fun. It's nothing new or out of the ordinary for Agatha, but if you're still in the mood to drop by her little village in the Cotswold's and indulge in the local killing spree, you're sure to enjoy Agatha's latest gruesome find and lucky investigation.
– Frances Carden
Follow my reviews on Twitter at: https://twitter.com/xombie_mistress
Follow my reviews on Facebook at: https://www.facebook.com/FrancesReviews

Latest posts by Frances Carden
(see all)