Roy and Rocky on the road…
Author:  Nic Pizzolatto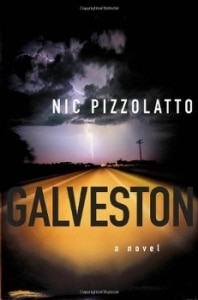 If you like dark dramatic fiction, featuring ethically challenged protagonists with lung cancer, have I got a book for you.  In Galveston, novelist and screenwriter Nic Pizzolatto – recent recipient of much acclaim for writing HBO's True Detective – has created a Gulf Coast thriller as murky and humid as they come.  Published in 2010, before the author's HBO gig, the book captures much of the same tone as the TV show and is likely to please fans of Pizzolatto's more recent work.
On the same day he is diagnosed with widespread lung cancer, Roy Cady – a tall, quiet, hard-drinking, heavy-smoking, forty-year-old hitman in New Orleans – is sent on a job by his loan sharking boss that makes him suspicious.  The fact that his boss is currently sleeping with his ex-girlfriend has made Roy wary and by trusting his instincts he's able to survive the ensuing paroxysm of violence.  As the smoke clears, he realizes that the only other survivor is a frightened young prostitute named Rocky.  Scrambling to make his escape while leaving no trace, he grabs the girl and the two hit the road, heading west and eventually hiding out in a rundown beachside motel in the outskirts of Galveston.  The rest of the story reveals how these two scarred individuals forge a unique friendship, opening up old wounds, facing treacherous obstacles and searching for some sort of stable future.
As is so often true with dark fiction, it's not easy to like big Roy, given his many flaws and unwise decisions.  But Pizzolatto still manages to create an undercurrent of humanity and poignancy in the man's plight that made me root for him.  His petite female sidekick is equally pathetic on the surface, but as her secrets are revealed it becomes clear that she's also worthy of respect for fighting the many demons that haunt her.
In addition to building a compelling relationship between two interesting characters, the author creates a sweltering and chemically despoiled stage for his drama to play out on.  Peopled with vicious killers, eccentric loners, belching oil refineries, hungry alligators and plenty of big Texas hair, this vivid, kudzu-infested nightmare lends a gloomy aura that effectively permeates the entire book.  But even with the addition of plenty of graphic violence and a revoltingly explicit sex act or two, the author still manages to construct story that somehow retains a few threads of human dignity.
Intriguing, dark, suspenseful and consistently entertaining, Galveston is exactly what I expected after viewing Pizzolatto's recent television work.  A well written story about realistically complicated people that's not afraid to dwell on humanity's noxious underbelly, I can recommend it to anyone who likes a thoughtfully melancholic adventure from time to time.
— D. Driftless
[AMAZONPRODUCTS asin="1439166641″]