On Grief, and Evil Mermaids, and Myth
Author: John Langan
After losing his wife, Abe is forced to go through his days alone, seeking respite from the grief and a touchstone to evoke the woman he loved. As life trickles by, he finds his wife again in nature; in the peaceful moments of fishing a connection is forged between the living and dead. She is not lost, not truly. She is merely other now.
Years go by and Abe survives with his quite evenings, his fishing pole, and his strange hopes and sentiments. When a young man at Abe's job begins going through the same grief, having lost not only a wife but a child as well, Abe forces himself to reach out, to share the only comfort he ever found. And so, Abe and Dan spend their nights and weekends silent, together, fishing rods in hand, their grief a weight between them, their poles dipping into the turgid waters, sampling a solace and a call to another world.
When Dan suggests a new place to fish – Dutchman's creek – Abe goes along for the ride. But something about Dutchman's creek is very wrong. Something lives in those waters, something ancient and otherworldly, and the voices of those whom Abe and Dan loved and lost take on a new cadence here. There is temptation. A letting go. And a lie.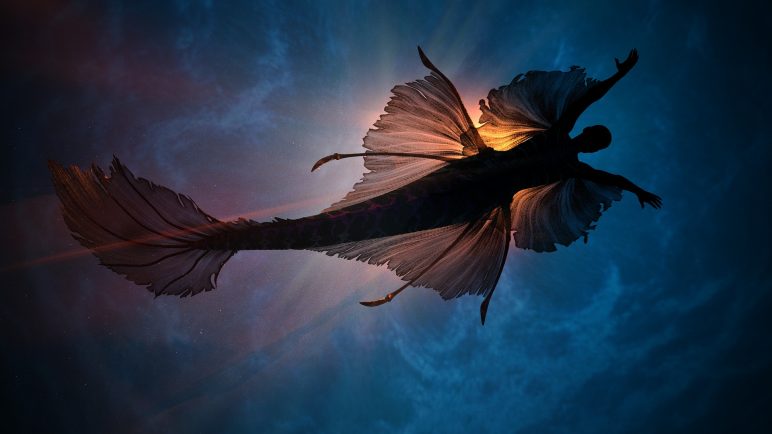 The Fisherman is a odd story, almost folkloric, as it twines horror and grief together into a beautiful sadness, a cosmic tale of a black ocean with yellow-eyed dead people and a mythic fisherman whose own grief and obsession lead him into an eternal, mythological struggle on the shores of that bottomless, black ocean. One of my favorite GoodReads groups (Creatures, Creatures Everywhere!) selected The Fisherman because it fit the theme of the month: evil mermaids. It is so much more: a set of two stories that come together, one in the present and one in the long ago past. Usually, such grandeur, plus the big pause in the middle as we go back in time through a story told within a story, would be patchy, but Langan started the book with a dreamy, timeless surrealism, and it fits as the stories, the weirdness of loss and that border between the land of the living and dead, history and supernaturalism, make it all work together. It's mesmerizing, an ancient tale that burbles in the rivers and creek beds and sings through the rain, pulling and tugging at the imagination and the heart simultaneously. What would you do, what would you accept, to regain those you had lost?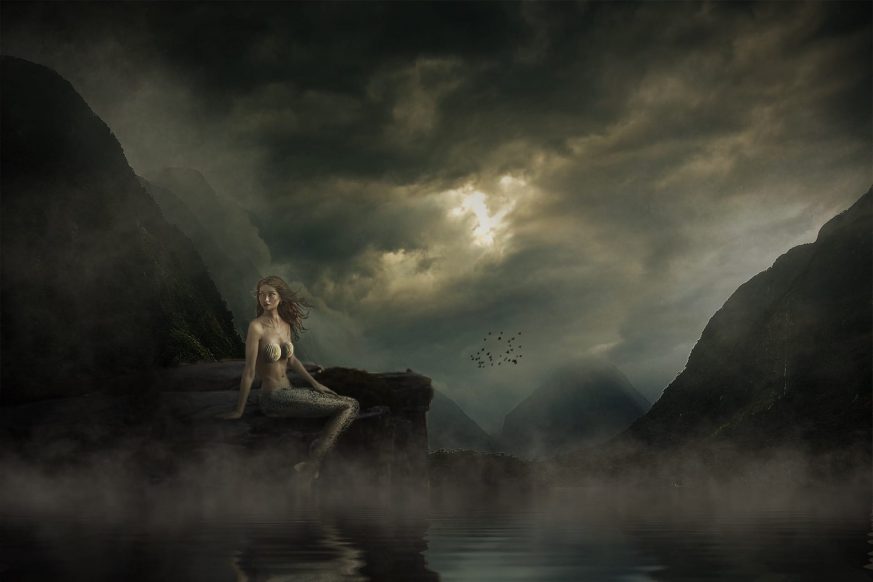 Other reviews have mentioned how Lovecraftian this story is, and I must agree. You don't get the full answers or vision, only a disturbing, yet oddly lyrical look on the other side of an obsidian mirror, just enough to know you are in too deep. Something big, immortal, eternal, and infinitely strange lurks on the other side and Abe and Jon are in just deep enough to be tempted by a siren song.
The entire story reads like a beautiful fever dream, and it is truly addicting. Langan interweaves language, story craft, and poetical imaginings with vivid imagery and characters who come alive through their grief and desperation. We are twined with them just as they are hooked by their own past. It all comes together into something so much more than just a tale. It has weight and depth and above all, mystery. There is more, far more beyond what we see and can comprehend, yet grief within itself is a full, drowned world, and our connections ultimately go beyond love into a dangerous longing, an insensibility and a desire to see only that which is pleasant not what is true. Ultimately, while we have creatures and legends and struggles beyond the ken of man, the real horror, the real monster, is the phantom of loss and the erosion of grief.
– Frances Carden
Follow my reviews on Twitter at: https://twitter.com/xombie_mistress
Follow my reviews on Facebook at: https://www.facebook.com/FrancesReviews
[AMAZONPRODUCTS asin="1939905214″]

Latest posts by Frances Carden
(see all)