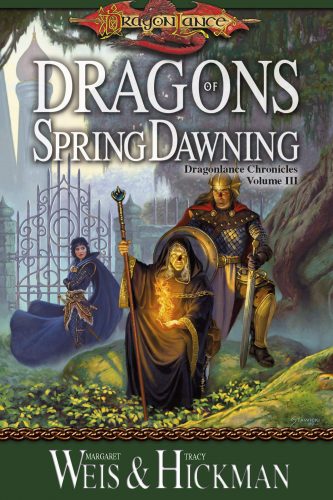 The End of an Era
Authors: Margaret Weis & Tracy Hickman
The companions have faced death and now they face betrayal and the dark power of Takhisis' amassing armies. In Dragons of Spring Dawning the Dragonlance Chronicles trilogy reaches its powerful conclusion. We have been following it from our beleaguered heroes' strange meeting in the Inn of the Last Home all the way through their perilous quest and into the first loss. Now, they are inching closer to the heart of Takhisis' evil empire and to answers they may not be able to stand.
Armed now with a dragonlance and good dragons, the friends find themselves nonetheless splintered, each forced to make their own decisions and trust in the gods and one another. But one amongst them, the forever grumbling Tanis, has come face to face with his deepest and darkest desires. Kitiara has returned, and she is a powerful dragon high lord. Tanis is forced to choose not only between his human and elven self, but also his alignment between good and evil.
Meanwhile, the Everman becomes more central to the story. Raistlin grows in power and finds the gateway to new secrets at a stunning cost. Caramon follows his brother into a brutal reliving of the past. As the war reaches its height the predictions from Lorac's nightmare begin to come true, one after another.
But while there is space for betrayal, for somberness, there is also still room for friendship and action, even forgiveness and adventure in the heart of an end-of-the-world story where the gods themselves finally descend to the common realm to battle. Long desired answers are unveiled and storylines are brought together. There is another terrible goodbye. A love story drenched in sacrifice. A history repeated. There are final, devastating choices, reunions and sellouts, betrayals and powerful alignments, love found and lost, and in the wreckage our surviving characters arise, stronger, wiser, but inevitably damaged.
Raistlin's story comes away the true winner in Dragons of Spring Dawning. He has long been my favorite character, and his arc is finally taken to the next level. His actions at the end, although odd, fit with the character's pride, and the stage is set for Raistlin's ultimate rise to power and personal war against the gods in the Twins Trilogy.
The other big story about Tanis' torn heart is an emotional whirlwind that frankly made me hate this lead character. While Tanis has long been hailed as the wise leader, I've never entirely sympathized with his character. He is whiny and selfish, often cruel to those around him. The fact that Laurana, who has grown so much as a character, continues to wait selflessly in the wings and, even worse, risks herself for Tanis is irritating. It would be nice to see a strong female character who moves beyond waiting on her fickle man, and my beloved Dragonlance is no exception. At the very least, I would have liked a scene where Tanis gets a telling off. Nevertheless, this particular thread in the story is the perfect setup for some truly wrenching scenes and makes the end drama unforgettable and heartfelt.
The rise of the good dragons is the third main story line, and it is entirely satisfying! The ancient betrayals and the secret of the good dragons is another powerful moment in a series that has come from light hearted adventure into this dire realm of personal sacrifice.
All in all, Dragons of Spring Dawning is a poignant end to a series that I have loved since my teenage years. The Chronicles first introduced me to fantasy literature, opening my mind to new worlds filled with epic generations' long struggles. Rereading this in my thirties, I am delighted to discover that the series still holds its magic. Even though this time I knew what would happen, the suspense and emotions were still there, just as bright and engrossing as the first time I read through them. Highly recommended. Next up, I'll reread the Twins trilogy.
– Frances Carden
Follow my reviews on Twitter at: https://twitter.com/xombie_mistress
Follow my reviews on Facebook at: https://www.facebook.com/FrancesReviews

Latest posts by Frances Carden
(see all)