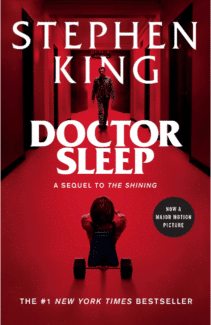 Danny Torrance, Grown Up
Author: Stephen King
It has been many years since the creeping horrors of the Overlook Hotel have visited Danny, now Dan, Torrance, but the legacy of evil lives on in Doctor Sleep. They say history is doomed to repeat itself, and for Dan that is no lie, but a waking horror. Recalling his father's temper, his struggle with alcoholism, and the human demons that live in us all, Dan finds himself taking the same path, transforming from informed child to a man haunted by his own supernatural powers and desperate to drown them all in a bottle, just like dear old dad.
Sometimes, you have to crash and burn before you can fly, a mangled Icarus coming back to life. Now in the seemingly sleepy town of Rivington, a miniaturized dwelling complete with adorable train, Dan has a new life with Alcoholics Anonymous. The problem is that without the bottle, his visions and predictions are coming back and they are blood soaked and grim. His old life, what he did in the powerful grips of his desire for alcohol, haunts him just as much as these semi-real bogies and Dan isn't sure if he can or wants to make it through this life sober.
Here though, his powers do give some solace even as they rend his nights. Working at the hospice alongside a prescient feline companion, Dan can sense and ease death. He soon becomes known as Doctor Sleep because his strange powers have dying patients calling for him to ease their transition from this world into the world of ghosts and dreams and darkest knowledge.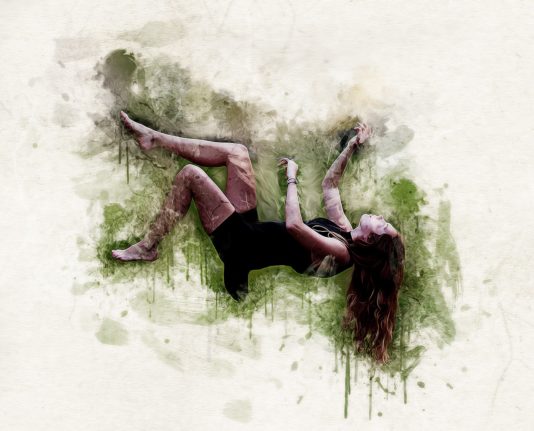 Enter Abra, a young girl with powers that rivaled Dan as a child. Abra, angry and determined, is a beacon to something far older than herself. A traveling band of seemingly innocuous RV people with their tourist T-shirts and ubiquitous retirees, known as the True Knot, senses her powers from afar. And they are hungry. Hungry for the filling that only torture and death of the gifted can quell. They want to take Abra's power, which they call "steam," and be sated, filled for the first time in centuries. Only Dan can help Abra; only he can understand her budding powers and help her fight something bigger than herself. Only with his past knowledge of what happened that one winter can he find the answers to the puzzle and stop the killing of children. But, can he do it in time and can he take on Rose the Hat, the leader of the caravan of inhuman monsters that is coming for them all.
Having recently finished The Shining, I was interested to learn that due to popular demand King returned to this world to see how Danny Torrance survived after all he had seen. The story, of course, seems like it will be weak – too reliant on what happened before and too busy remembering back to give audiences something fresh and new that still has the same feeling as the original, slow build paranoia of the malevolent Overlook. Not so. Doctor Sleep isn't perfect, but it is original and new. The story does cast back to the Overlook some, but it is never overshadowed by what happened before. It is interested in moving on, informed but destined to follow its own path and fight its own band of new monsters.
It starts very darkly, cloying even with the degradation of a drunken, staggering Dan living out his worst days as a one-night-stand, thieving alcoholic. Something here is so real, so dark, that it surpasses our usual inhuman monster show and goes to the heart of dissolute humanity. It bothered me. It depressed me. It made it hard for me to read, especially as Dan flashes back on the child he could save that he left, the child reaching for the cocaine saying "candy," left alone and bruised. This is a real horror and King proves his firsthand knowledge of just how low addiction can take a person and the self-hatred it engenders throughout a repetitive cycle that can't be stopped and soon becomes hated just as much as it is needed.
Oddly enough, everything lightens as the real monsters are introduced and a reformed Dan meets a teenage Abra. This is where the new story gets rolling and we meet the True Knot, a terrifying band of vampire like creatures who feed on the essence of children with the shining and find that a little torture spices up their meal. This band is desperate and although they can feed on tragedy well (we see them enjoying 9/11 in the beginning) they need to take fresh, real steam to keep surviving. Especially because as immortals, they are starting to die and it seems that taking Abra may be all they can reverse the effects of a sudden, hideous mortality that is infecting their ranks.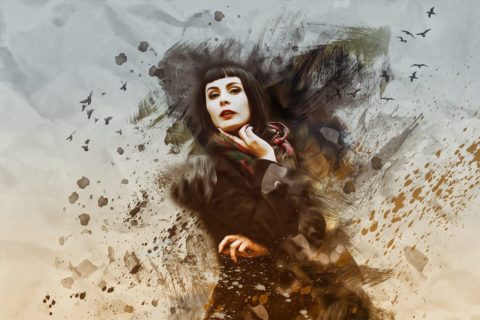 And thus begins a long game of psychic cat and mouse that eventually leads straight into Dan's past where the final answers lie. Some of the original ghouls from the Overlook come back to play a small part and the end confrontation gives some answers, some hints, and a sad nod to a disturbing future for Abra who seems to have the same sort of temper and violence as Jack Torrance beneath her do-gooder appearance.
Dan and the cast of characters – the miniature train driver and Abra's childhood doctor – make a good team and each person feels real and entirely relevant. We get drawn into the game, the hunt and search, the alternating scenes between the hungry caravan and their charismatic, top hatted leader, and the carefully laid plans of Dan and Abra. It's enticing and altogether original from The Shining while still falling back on some of the verve and the underlying themes of its predecessors. Readers simply get hooked.
Doctor Sleep is not flawless though. The deaths in the True Knot leave a lot of plot holes which, if revealed, would be endless spoilers. Suffice it to say that the logic of the Knot, and their need for Abra, is deeply flawed and easily questioned. Why had this issue not surfaced centuries before, predating the vaccines that tie into the resolution? Would this not have been something long ago encountered by this traveling band of psychic vampires? Why now is it an extinction level problem? It simply doesn't make sense and if we want to enjoy, want to follow these unique villains, we simply have to gloss over all of that, otherwise the story is ruined.
Nevertheless, Doctor Sleep was far more enjoyable than I had anticipated. Riveting even. It's not the best Stephen King, but it is certainly a book worth reading. It is realistic in its depiction of alcoholism running through families and strong on characterization and pacing. It doesn't recapture the glory of The Shining, but it is a decent sequel, far better than most.
– Frances Carden
Follow my reviews on Twitter at: https://twitter.com/xombie_mistress
Follow my reviews on Facebook at: https://www.facebook.com/FrancesReviews
[AMAZONPRODUCTS asin="1982131802″]

Latest posts by Frances Carden
(see all)