Miner Miracle…
Author:  Héctor Tobar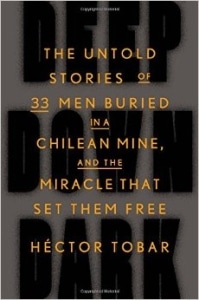 I don't believe in miracles.  But, despite my skepticism, I can't think of a better piece of evidence for their existence than the survival of all 33 men trapped by the 2010 San José Mine disaster in Copiapó, Chile.  Although, if God really did have a hand in saving the miners from almost certain death, one has to wonder why he didn't bother to keep the mine from collapsing on them in the first place.  But whatever your view on miracles, there's no denying that the miners' saga of 69 days spent under half a mile of solid rock is truly incredible.  Chosen by the miners and granted exclusive access to their stories, Pulitzer Prize winning journalist Héctor Tobar chronicles their tale of survival in Deep Down Dark.  The book is exactly as good as it should be.
Part of a long and proud tradition of Chilean mining, the San José Mine – located in Chile's barren Atacama Desert – was a lucrative source of copper and gold for over a hundred years.  The brave men, toiling deep in the bowels of the earth, bringing mineral rich ore to the surface day after day, were well aware of the inherently dangerous nature of their job.  But for reasons both financial and personal, they returned for their shifts, despite the difficulty of the labor and the frequent groaning of the rocks around them.  But on August 5th, 2010, luck would run out for 33 members of the Chilean mining brotherhood.  Weakened by the countless tunnels excavated over the decades, the mine finally collapsed, trapping the mend behind a rock as large as two Empire State Buildings.  Amazingly, no one was injured, but there were no functional escape hatches, no one was going to be able to dig them out and they had enough food for only a few days.
If it wasn't for the outcry of family, friends and supporters – both nationally and internationally – the men might have been left for dead.  The idea that anyone could survive such an enormous collapse seemed entirely implausible, but despite the long odds a rescue plan was initiated and the rest is mining history.
While it may not be as challenging as releasing a small army of miners from their rocky tomb, successfully telling a story that involves several dozen different characters is no small feat.  But Tobas is up to the task, never faltering as he somehow manages to juggle 33 different storylines without creating a confusing literary mess.  At the same time he delivers a riveting inside look at one of the greatest survival stories of all time.  Deftly capturing the claustrophobia and darkness that terrorized these men every day for more than two months, the author also delves deeply into the psychology of the experience, exploring the both the selfish and altruistic aspects of humanity that are always a part of any great saga.
An exquisitely rendered account of a heroism and endurance, Deep Down Dark is survival writing at its finest.  Although I only faintly remembered the 2010 story before picking up the book, I highly recommend it even to those who followed every day of the round-the-clock news coverage back then.  It may just make you believe in miracles again.
— D. Driftless
Check out other reviews of books about survival against the odds:
Flight 232   /   Deep Survival   /   The Story of a Shipwrecked Sailor
[AMAZONPRODUCTS asin="0374280606″]