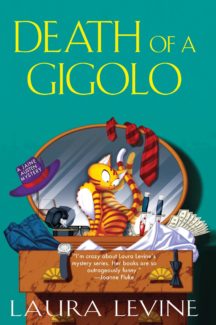 50 Shades of Murder
Author: Laura Levine
It's starting again – that expectant feeling of romance and hope plus a new, lucrative job for Jaine. So inevitably schemes galore, crazy killers, ridiculous parents, and extra ex's are queuing up for this, the next hilarious disaster in Jaine Austen's unofficial life as a secret sleuth and Chunky Monkey addict in Death of a Gigolo.
It all begins with Daisy Kinkaid, wealthy society dame recently out of hiding. Rumor has it (on very good sources) that after the loss of her dear companion, Daisy decided to shuck away the life of a recluse and in honor of her deceased friend, live every day in the open. Her immense wealth makes this possible, and it also attracts a dubious host of friends.
With her new lease on life, Daisy decides to pen her very own romance, based on a popular book and her love of all things incandescently turquoise. Enter Jaine, beleaguered ghost writer, who will pen the ill-fated Fifty Shades of Turquoise, which follows a society lady and her romance in the turquoise mines with a rough-and-ready foreman. It's not Jaine's usual choice, but the promised fee of $10,000 does a lot to warm her up to the thankless project. The pampered atmosphere with all the perks and top-notch, chef produced gourmet meals sweeten the deal even further. This may be Jaine's best job yet.
The sweet life rapidly changes though when Tommy, the sleazy nephew of Daisy's dearly departed friend, walks onto the scene. Soon there is a whirlwind romance and the lecherous Tommy turns the house upside down; the black-mailing new Mr. in Daisy's life has coaxed her into an engagement and tempers are running high. It's little surprise then when Tommy enters the dearly (or not so dearly) departed list. The only real surprise is, out of so many viable suspects, who finally plunged the knife in and ended Tommy's reign of terror?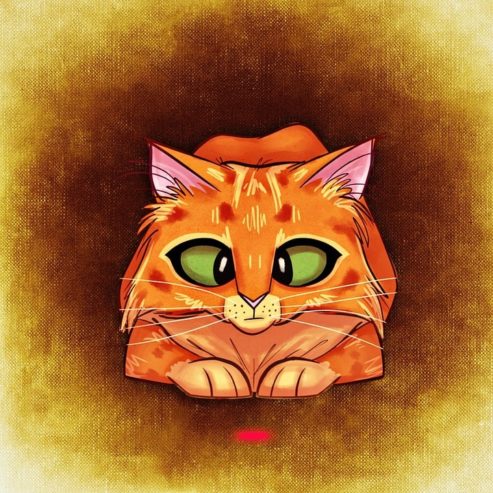 Jaine has her work cut out for her and wants desperately to save her fellow secretary and new friend Kate. Kate is likewise an elastic waist pants, Chunky Monkey connoisseur with a flippant edge and a popular voodoo doll of Tommy. The soft-eyed Kate could never be a killer, but an unfortunate row with Tommy and dismissal by Daisy makes her number one on the police's suspect list. Jaine, ever sensitive to injustice, must save her friend from the slammer. But where to start? The more she investigates, the more it appears that everyone benefited from the sudden lothario's grisly demise.
In her usual spunky style, Levine keeps us on a fast-track, laugh-out-loud plot in Death of a Gigolo. The fans who congregate among Daisy's turquoise clad arms are many and all their motives ring false, similar to Thirteen Dead-End Drive, which many of us remember fondly from childhood. We have the best friend, Esme, with her suspect animal charity and its constant need for cash; the older gentlemen follower, Clayton, with his eye on Daisy and her money; the dissed chef, Raymond, with a shady past; the failed actress and maid, Solange, with an axe to grind against Tommy; and even Jaine herself, who has hardly cleared the police's suspect list. Among all these servants and society savants, a killer lurks.
Meanwhile, Jaine's love-life (out of the turquoise mines that is) is heating up, with just a few foibles. Once again entangled with the Blob (supposedly reformed) Jaine is doing her best to get back in the good books of her sexy ex. If that means following him to meet his weirdly obsessed guru and beetle worshiping friends, fine and well. Of course, if that ends up in an accidental stomping of the sacred beetle, things spiritual and physical could get off to a bad start. Add in a grumpy Prozac on the warpath and Jaine's murder mystery may fair better than her budding romance.
All in all, Death of a Gigolo is one of my favorite editions to this series so far. All the usual perks are here – the fast pace, the lovable characters, the hilarious insights and situations, the complexity of the slaying, and Prozac's fluffy feline antics. Add in the twist ending. Seeing the killer coming this time would require some superhuman sleuthing, and we are just as surprised as Jaine during the final showdown. Death of a Gigolo is another hilarious and engaging Jaine adventure. As always, I eagerly wait for the next addition to the series.
– Frances Carden
Follow my reviews on Twitter at: https://twitter.com/xombie_mistress
Follow my reviews on Facebook at: https://www.facebook.com/FrancesReviews
[AMAZONPRODUCTS asin="1496708520″]

Latest posts by Frances Carden
(see all)