Why You Should Never Buy a Book Based on the Cover
Author: Alex Erickson
What could be better than kitties, coffee, and cozy bookstores? Death by Coffee stars some astonishing cover art, which captivates cat and cozy lovers from the first glimpse. The back cover blurb describes a duo of friends striking out on their own, building a combination coffee and bookshop named after a fictitious murder mystery; they even introduce a resident feline, aptly named Trouble. The shop's name soon proves prophetic, however, when the town crank ends-up dead after his first, and only, coffee purchase. Now a hunky policeman and Krissy, the friend with a background in mystery (however tenuous), must suss out simmering small town secrets before Death by Coffee meets its own fatal end.
Death by Coffee has all the trappings of a promising new series (bookstores + coffee + cats = a cozy lover's dream!) Yet within the first chapters, whisperings of discord begin. Krissy, the friend responsible for the coffee portion of the combined bookstore, serves as our main character/narrator. She's the daughter of a famous mystery author (the shop being named after one of his books), a lover of puzzles, and the unfortunate barista who serves Brendon Lawyer, the unwitting victim, his cup of laced doom. With her background in mystery (really?), she soon becomes convinced that the only way to clear their new business venture from the pall of murder is to investigate by storming away on angst driving dates, ill-informed tirades, halfhearted breaking and entering schemes, and liberal dashings of public accusations. It's enough to put comfy readers in a teeth clenching, logic defying downward spiral that leaves us longing to just forget this book.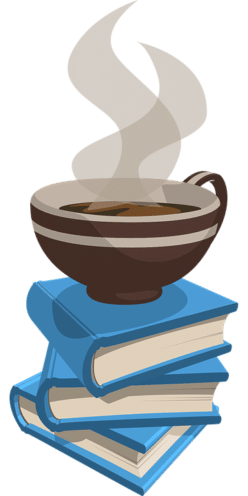 Krissy's friend, the more stalwart Vicki, is the one with the dream and motivation. She has escaped her unwanted Hollywood stardom (eye roll) and Death by Coffee is her only chance for the life she really wants, far away from the big screen. Vicki runs the bookstore and generally makes everything work while Krissy's only duty is coffee making and the occasional swipe around the empty tables. It's an easy enough job, yet Krissy is so enamored with her fiction of being a detective that within the six short days the narrative covers (all of which move with the speed of an asthmatic snail in a pollen storm) she ditches – calling in sick, running off in the middle of the day, and generally being the worst possible friend and business partner.
Meanwhile, our childish narrator, who is upset that the policeman of her desires doesn't accept her Facebook friend request, goes on a deduction spree targeted at eliminating a town full of suspects. To know Brendan Lawyer was to hate him. So Krissy hounds his grieving widow, actually forcing her way into the woman's home (twice) to ask her if she killed her husband and also if (and with whom) she was having an affair. The widow isn't the only target. There's the mother to trail and accuse in broad daylight – on the street corner no less, Brendan's boss, Brendan's brother, Brendan's mistress, etc. What is even more amazing than the assumption that anyone, however dimwitted, would actually find this method of investigating acceptable, is the fact that all these people answer! It's very kindergarten – I asked you a question, so therefore you obviously have to answer. Krissy's one dimensional feel only compounds with her investigative furor, taking us from apathy to eventual hatred. It's all too contrived, too stupid, too devoid of any actual literary effort.
In the conclusion, the killer decides to confess in Krissy's coffee shop, mostly because Krissy is simply too annoying with all those endless, blunt questions. I mean – the killer couldn't lie, right? Murder is one thing, telling a fib is totally another… And so we have the happily ever after that no one in this narrative deserved, a formerly guilty Krissy (who even admitted that her own questions are ruthlessly blunt and unethical, if not downright poorly phrased and executed) is now the hero. The coffee shop has more patrons than ever and of course, the long suffering Vicki is never upset by her absent partner's free-wheeling detecting, which will, of course, become the wave of the future.
Death by Coffee was ultimately so bad that I will never pick up another in this series, despite the pretty cover and the decent premise buried somewhere in all the unrealistic "drama."
– Frances Carden
Follow my reviews on Twitter at: https://twitter.com/xombie_mistress
Follow my reviews on Facebook at: https://www.facebook.com/FrancesReviews/
[AMAZONPRODUCTS asin="1617737518″]

Latest posts by Frances Carden
(see all)