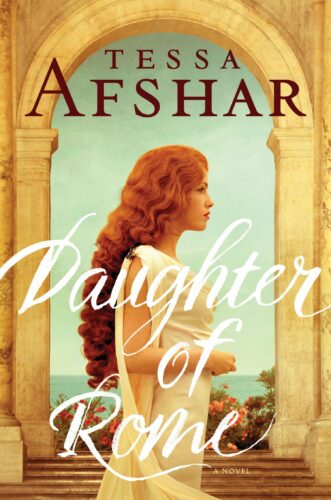 A Look Into the Secrets of Priscilla and Aquila
Author: Tessa Afshar
Priscilla has a secret and a deep regret. She also knows someone else's secret, and that could be deadly. As the years have passed, she has found peace, even acceptance in a synagogue. It's not the religion of her people, but somehow it seems right, it draws her. And so, she remains, an outsider, but still an integral and beloved member of the community.
Meanwhile, Aquila has his own sorrows and a devastating past, but the work of a follower of Jesus is never done, and so he continues onwards. Eventually, the path of his family and Priscilla – a gentile, Roman general's daughter – merge. The two have a lot to learn about one another, about faith, about fulfilled prophecy, and ultimately about love and forgiveness. But the past is not ready to rest. Alongside new opportunities and a chance for love an enemy emerges. An enemy who will kill to protect a long-forgotten secret.
Daughter of Rome is a captivating and heart-warming narrative that imagines the life, courtship, and trials of two of the most memorable Biblical characters, Priscilla and Aquila. Both were lauded by Paul during his many visits to Corinth, but how did this Biblical power couple come to be, and what adversities did they face before meeting Paul and before becoming an integral part of the church?
The emotions of this book remind me a little of Jan Karon's Father Tim novels in that the characters themselves are gentle, open to learning and experiencing the world around them through a Christ-centric instead of self-centric viewpoint, and are willing to turn the other cheek. Yet, the atmosphere here is certainly more fraught, more dangerous. The novel starts shockingly with Priscila, this matron of the faith, faced with an enormous sin, one that will haunt her throughout the pages of the book and challenge readers to exercise both forgiveness and empathy. After this decision, Priscila is forced to be kinder, more understanding, and yet harder on herself. How, after all, can she ever be forgiven? How can she ever judge anyone else?
Aquila starts at a different point. He is ostensibly more righteous, but also more judgmental. How can a decent Jew, after all, break the laws and eat with a gentile? How can he reckon Priscila a godly woman, and how can he move beyond the strictures of the law to understand the heart behind the commandments and to accept the new covenant and all the uncomfortable things it may entail culturally? While Priscila is acclimated to giving the forgiveness she wants, Aquila is the opposite end of the spectrum. This allows for character growth on both ends and an unlikely but entirely satisfying relationship.
Along the way, the couple faces more controversy as their family grows. They rescue an adorable dog and a runaway boy. All the while, a murderer follows Priscila. It's engaging, chilling, beautiful, and emotive, all tied together, bringing these ancient characters to life and making us stop to wonder about the real Priscila and Aquila, how they got to be leaders in Corinth, and how their own personal tragedies and their love for one another must have shaped them to support the early church.
Slight Spoiler
My only quibble with this narrative is a historical one. Priscila's sin (abortion) – and even the knowledge she has of another key character's wrongdoing – was something that the ancient Romans would have taken in stride; indeed, her sin was legal. Early Christians felt the opposite way, however, pagan Romans (which is Priscila's background at the time the story starts) did not feel that way. This inaccuracy in the narrative affects not only Priscila's character (i.e., her guilt drives her to find God), but the villain's pretensions and desperation as well. Here are some articles that are pretty interesting and talk a bit about ancient Roman legalities around abortion and how perception of and acceptance of abortion and contraception changed with emerging Christianity: Family Planning in Greco-Roman Antiquity – World History Encyclopedia/ and Abortion in the Ancient World – World History Encyclopedia.
End Spoiler
This is my first encounter with Tessa Afshar, and I hope to read more of her narratives. It was refreshing to read a Biblically founded, pro-Christian historical work that focuses on love and living for Jesus and in His light. The story itself was also dramatic and emotional, and all the characters well-wrought, flawed, and empathetic. I wish the historical accuracy regarding Priscila's sin had been better – it distracted me throughout – but I enjoyed the tale so much, and the way it was told, that I ultimately forgive the inaccuracy in the name of fiction. I highly recommended this book for Christian readers and for connoisseurs of historical fiction.
– Frances Carden
Follow my reviews on Twitter at: https://twitter.com/xombie_mistress
Follow my reviews on Facebook at: https://www.facebook.com/FrancesReviews

Latest posts by Frances Carden
(see all)