Best Laid Plans
Author: Mark Waid and Greg Rucka
Illustrators: Marco Checchetto, Chris Samnee, Khoi Pham
In order to protect the Omega Drive, a Fantastic Four relic that is essentially acting as a store-all for explosive data from Hydra, AIM, Secret Empire, and other Megacrime entities, Daredevil forms several uneasy alliances and hatches a risky plan that just might cost him everything, including his new lady love, DA Kirstie McDuffie in this, Mark Waid's third volume. Along for the ride, we have the ever sarcastic, and admittedly romantically outcast Spiderman, still experiencing fresh pain from Daredevil's unfortunate liaison with Black Cat. Spidey, however, still wants to protect innocents and stop Megacrime. Unfortunately, the clock is ticking and carefully laid plans only take more time, and cost more lives. It's time for drastic measures. It's time to team-up with the morally dubious Punisher and his latest protégé, Rachel Cole-Alves, an angry widow with memories of a bloody wedding and a yen for revenge stronger than a desire for justice.  But Matt can handle them, use them, shape them. Or so he thinks.
Using himself and the drive as bait and calling on all Megacrime to swarm him for the final showdown at a certain time and location seems like a plan destined for disaster, even for the danger loving, roguish Daredevil. Add to this spectacularly risky theme internal betrayals and the ultimate fight between vengeance and Daredevil's non-violent morality, and you have the set-up for a certain dripping darkness among the suavasito swagger of daytime attorney, nighttime super hero, Daredevil.
For those tens of you out there who follow my reviews either through dedication or a complete lack of decent cable, you've heard the "comics aren't my thing but Daredevil sure is" spiel a million times. The hubby adores comics and grand landscapes of moral battles among the fantastical, all with heavy emotional tolls and a lesson, whereas I'm more the reader of traditional, thick, non-pictured books. The change came more out of curiosity and while I now have him indulging in some of my thicker tomes with me, I'm working my way through one of his favorite series and I have to say, even as a Marvel newbie and admitted babe-in-the-woods on the complicated inner ties of comic series, one to another (such as the tie-ins here with Avenging Spiderman and, obviously, the Punisher) I just had fun. Waid has a way of taking a short amount of space, mostly pictorial, and using it to pack an unforgettable punch, and the succinctness of the dialogue and the flare of the illustrations (done respectively by Marco Checchetto, Chris Samnee, and Khoi Pham) showcases a true talent at getting to the pulsing, human nerve of a story. And that's why I more than just like Daredevil.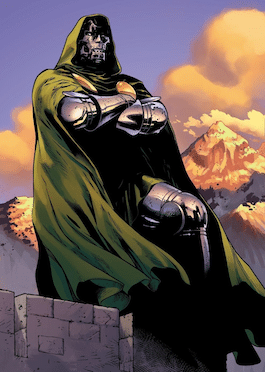 The character continues to mature and grow here and while Matt certainly has his dark sides, and plethora of haunting memories, encounters, and altercations, Volume 3 does occasionally take a break from the oppression of Matt's responsibility. Here, we finally learn the beginnings of his unlikely friendship with Foggy and glimpse a cocky, college Matt. We also go-along for Matt's first date with Kristie where she deliberately blindfolds herself in a crowded fair to understand how Matt's blindness must feel and how navigation of the world around him is so drastically different (admittedly, she has no idea of his true "sight" capabilities – but just hold that thought).
Enter in several unexpected, slight of hand twists and turns, including a secret plan of Daredevil's an encounter with Dr. Doom's goons in Latveria. Here, Daredevil learns the true meaning of sensory deprivation while, meantime, Foggy discovers a secret in Daredevil's desk that changes everything – including his perception of his friend and hero. The conclusion is a powerful one, both in content and in imagery with the final illustration of a smiling Daredevil haunting the reader.
While some of the core illustrators aren't associated with this particular volume, Checchetto and Samnee, new to Waid's Daredevil, keep the stunning graphics in ample supply, showcasing both vibrant color and lively action alongside the subtleties of facial expression and emotion. Along with the potent and emotional storyline, the Daredevil illustrations within Waid's volumes continuing to be a key, engrossing feature. Add this to an ever evolving plot, plenty of heart pounding action, and several revelations, and you have all the ingredients for another addictive Daredevil treat.
– Frances Carden
Follow my reviews on Twitter at: https://twitter.com/xombie_mistress
Follow my reviews on Facebook at: https://www.facebook.com/FrancesReviews/
[AMAZONPRODUCTS asin="0785161015″]

Latest posts by Frances Carden
(see all)