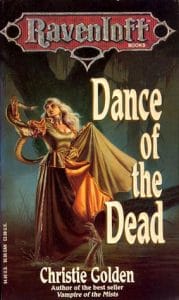 Of Zombies and Love
Author: Christie Golden
Larissa Snowmane is the lead dancer on La Demoiselle du Musarde, a riverboat that travels the dangerous mists, port to port, bringing entertainment. Growing up onboard this boat, Larissa only vaguely remembers her father, a man who abandoned her. Captain Dumont has taken his role as her defacto uncle seriously, however, and despite the rough ports La Demoiselle frequents and some of its less than savory business, Larissa has maintained her innocence and naïve trust. But it's time for her to grow up, because Dumont has bided his time. He wants Larissa as his lover now, and he won't accept no for an answer.
After one of the show boat's cast is killed, La Demoiselle is forced to flee into the mist from a lord desperate to pin his crime on the crew. The next port, Sourange, with its swampy voodoo feel brings only more despair. In the night, Larissa hears pounding drums that no one else can hear. The rift between Dumont and Larissa increases. A shadowy figure under Dumont's protection enters the boat, promising a new kind of power, and the crew and cast start to change.
Larissa's only hope is the one man she met while fleeing Dumont: Willen. Willen seems to know things he shouldn't, but unlike everything and everyone else in this land, there is an aura of goodness and peace about Will. He promises salvation and something more. The only problem? Larissa must go into the swamp, toward the pounding of the drums in her head, to find the answers before it is too late. She might not survive the experience. As a matter of fact, something worse than death is definitely stalking her, watching her, just waiting for the right moment.
When I first started reading the Ravenloft series, Dance of the Dead was the second book I tried, and I hated it with an absolute passion. The premise seemed silly, from theatrical dance troupes with strange powers to a heroine who literarily dances magic into existence, to a host of carnivorous talking animals and some zombie shenanigans thrown into the mix. That was fifteen odd years ago, perhaps more, and now I am back. I decided to read Ravenloft from the beginning, although all the books are standalone, and warily trudged into this dreaded memory again, choosing the audio book version this time. I was surprised that time and a growing love for not only horror but fantasy has changed my perceptions of this story. Dance of the Dead is still one of the cheesier Ravenloft tales, and it doesn't bear too much logical scrutiny, but it's actually kind of fun and quite atmospheric.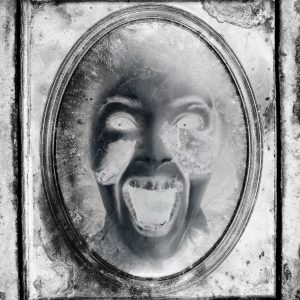 What's interesting here is the more equal blending of fantasy and horror. This happens across the Ravenloft series, with some books leaning more towards horror and others more towards fantasy. This one actually leans more in the fantasy direction, and as I have since grown to like fantasy, I actually found that a good mix.
The problems lie more with the villains: Dumont is very one dimensional and his sudden shift in action from guardian to ardent, violent lover defies practicality, especially for a man rumored to be so evil and so shrewd. His necromancer accomplice, Lond, is equally lacking as a convincing villain. Both characters are predictably evil; their dialogue is quite cheesy, peppered with a B-movie flair that is ridiculous enough to almost seem on purpose. I still wasn't a fan of this over-the-top presentation, but the rest of the story, including Larissa's romance and her encounter with the lord of the land (who is also Lord of the Dead) is far more nuanced.
Larissa herself is a likable, if not entirely complete character. She is strong and able to instantly discard her innocence and bear a larger burden, one essentially fated to her. She has grit and determination, emotions that empower her instead of holding her back. This is really essential for the role she must play and the land she walks where anything from zombie snakes to talking killer bunnies may be set against her. I would have liked a more complete back-story and in some instances a little more grief and hesitation before being strong and doing the right thing, but overall Larissa is one of the better Ravenloft characters.
Willen, Larissa's enigmatic love interest, has a very intense story arc, one I remember finding shocking and tragic even upon my first less than happy read. Ravenloft is known to ere a bit more on the George R. R. Martin side of no one being safe, and that is certainly true in the battle of good against evil. There is no certainty that the good guys will win, and the Willen/Larissa arc is no exception of the rule. If you expect a pure "evil wins" motif though, you won't be right either. For such a silly story, there is some cleverness here, some subtly, and one of the "cheerier" Ravenloft endings.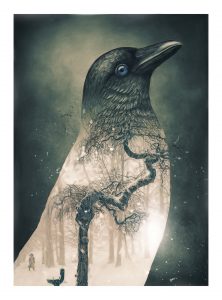 The arch-villain here, Misroy, with his rotted castle and penchant for undead minions, is all too brief an edition. I wish he had appeared in more Ravenloft books. He is a powerful nemesis, dangerous in his own compromising, occasionally kind (albeit twisted) gestures. The strange relationship he develops with Larissa as she enters his tutelage is one of the most memorable and engaging portions of the book.
Other characters appear, most notably a plant maiden who opens Larissa's eyes to the possibilities and teaches her new aspects of the swamp. There is also a host of magical creatures and talking animals that play a large role in the power play between heroine and villains, and, of course, lots and lots of zombies.
Most of the Ravenloft books steal from classical European lore, involving everything from vampires and werewolves to a very-much Frankenstein like monster and more. Here, the tone is very different from all the others. It is a refreshing Cajun/New Orleans favor that gives Ravenloft, and all the lands it has inevitably captured in the mists, more diversity. This makes sense, considering how lands end up in the dark demi-plane.
Of course, if you are wondering what I mean by that – then don't fear. Reading several Ravenloft books or being familiar with the D&D setting gives you little tidbits about everything from the mists to some of the lords of the land, but none of it is necessary. Each story stands on its own. Together, they form a strong compendium (mostly), but apart they all stand as darn good stories, with just enough hints of the world they all reside in to make it fun to read other books that overlap and follow the nuances of a haunted world filled with the damned and a few heroes who accidentally got captured in the mists.
*A Note on Edition: Oddly, the Audible rendering of Dance of the Dead is beyond horrible. The narrator makes up very fake, very monotone, very over accented voices that are just pull-your-hair-out bad. It is cringe worthy in the extreme and detrimental to the reader's enjoyment. Be absolutely sure to get the written format of this Ravenloft and at all costs avoid the audio book.
– Frances Carden
Follow my reviews on Twitter at: https://twitter.com/xombie_mistress
Follow my reviews on Facebook at: https://www.facebook.com/FrancesReviews

Latest posts by Frances Carden
(see all)