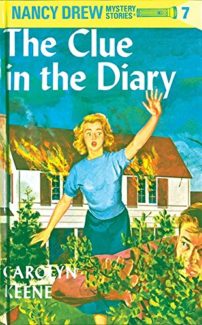 Murder, Arson, and a Mysterious Diary
Author: Carolyn Keene
After my previous favorite two Nancy stories, in which our titian-haired sleuth goes gumshoeing Wild West style only to follow that with a farm bound, secret cult mystery, The Clue in the Diary is a more sedate Nancy adventure. She's still in Riverside, able to reach her father, Carson Drew, easily, trucking home after a long day to her own comfortable house and the attentions of housekeeper Hannah Gruen. That's not to say that her danger is any less. Perhaps it's even more because in her familiarity of location she soon stumbles onto a long-running patent scheme, an exploding house, a presumed homicide, a murky case of her father's, and a down-and-out-family whose only hope is the return of their father – the very same man suspected of murder and arson! Split between a desire to help this family and also an intense respect for justice, Nancy follows her instincts to the bitter end – right into the almost clutches of a dangerous, desperate man.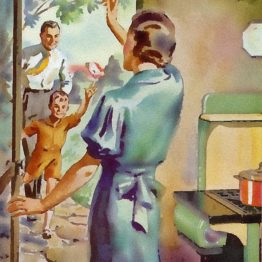 The book starts with a bang, literally, as a country drive for Nancy, Bess, and George turns into the scene of a raging inferno. A beautiful house, later discovered to be the property of "Foxy Felix," an unscrupulous man who just so happens to be involved in one of Carson Drew's nastier cases, explodes right as the girls look at its beautiful columns and wonder about the inhabitants. During the conflagration, which incidentally ignites the preludes of a little chaste romance for Nancy, our quick-eyed sleuth sees a man and finds, you guessed it, an illegible diary that holds the clue to the entire crime, if only she could decipher it. From here, Nancy and company soon decipher that the suspect and owner of the diary is none other than the man tied to their down-and-out-family – and that's just the beginnings of a twisted tale of greed and sabotage.
True Nancy style, we know early that evil will never win. That doesn't mean that it won't give our good-hearted characters a run for their money, throwing some clever curveballs and elaborate schemes into the mix. Like the original Scooby-Doo, which I adored as a child (which I still am rather, guiltily, fond of) the man ends up being the monster, every time; the more elaborate the villain's trap, the more completely he is ensnared by the nature of his own greed. It's the same case here with the usual Nancy formula that while predictable is none-the-less enjoyable and, dare I say it, even part of the charm.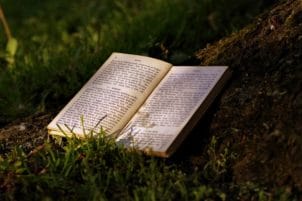 This was one of the Nancy mysteries that I didn't ever get a chance to read as a kid, but in my new nostalgia kick I was just as glued to the plot and the characters as I would have been back in the day. There is something subtly charming about this series, something that is simple (at least in words and chapter length) but substantial and well formed, something equal parts cozy and exciting. It's good to see Nancy's future beau enter the cast and further round out the world of a young teenage girl who is interested in both her burgeoning social life and in the defense of the downcast, alongside rollicking adventure that causes her to rely on quick thinking, ingenuity, and wits.
– Frances Carden
Follow my reviews on Twitter at: https://twitter.com/xombie_mistress
Follow my reviews on Facebook at: https://www.facebook.com/FrancesReviews/
[AMAZONPRODUCTS asin="0448095076″]

Latest posts by Frances Carden
(see all)