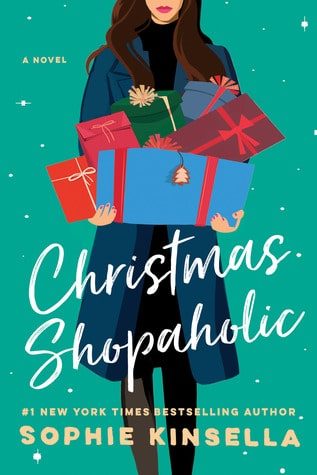 Becky Hosts Christmas
Author: Sophie Kinsella
Christmas is the season of tradition – carols and cozy events with friends and family. And Christmas is also Becky's mom's specialty. However, when Becky's parents decide it's time to get hip, leave the area, and discover avocado toast and the high life in trendy Shoreditch, the yearly hosting of the festive season falls to Becky, and she's not ready. From accidentally ordering over thirty pounds of salmon to finding the perfect gift for her husband, to making her environmentally staunch sister happy with both a vegan turkey and a lack of polluting gifts, the Christmas season quickly goes from cheer to terror. Nothing is working for Becky, from her Christmas décor to her invention of a new spryyge collection at her best friend's estate gift shop. Add to all this complication some warring relatives and an old flame back in town with an agenda and this Christmas just might be too much for even the staunchest fan of online shopping and ethically sourced llama ornaments.
The Shopaholic series started strong – full of humor and heartfelt poignancy. The last several books, however, have lacked that essential magic. They've tried too hard and followed some pretty absurd plotlines, from Becky's time in Vegas to the addition of a surprise sister, but Christmas Shopaholic brings fans back to the good-old-days when everything was a perfectly hilarious and touching disaster. Everything that is beloved about the series, from the characters to their shenanigans (and Becky's shopping), is just perfectly right here and fueled with that extra yuletide stress that has the audience laughing and commiserating at the same time.
Christmas Shopaholic is one of my favorites in the series so far, and it sets a good precedent for Becky's next adventure too. There are really two dual storylines: the woes of Becky's friends and family as the Shoreditch trauma ruins the peace of Christmas and longstanding associations and Becky's old rockstar flame. Both stories work well together, and Kinsella does what she does best: gives us some true moments of worry and sympathy and surprising happy-cry poignancy while also keeping the humor realistic and turned up. Everything is just right, and I was invested both for the laughs and the pathos. It was brilliant and absurd and funny and warm hearted and just . . . sigh . . .  true shopaholic excellence. Although . . . Luke was way too nice and perfect about the ex-boyfriend thing, but then again he has never been the powerhouse character that drives the story anyway, so who really cares?
Christmas Shopaholic has me back on track and once again in love with this series and everything Kinsella. I kept ditching the other books on my current reads list, enjoying this seasonal reunion with a buoyant but stressed Becky looking for just the right yuletide merch. I can't wait for the next in the series!
– Frances Carden
Follow my reviews on Twitter at: https://twitter.com/xombie_mistress
Follow my reviews on Facebook at: https://www.facebook.com/FrancesReviews

Latest posts by Frances Carden
(see all)