The Beginning of the Cookie Jar
Author: Joanne Fluke
Previously, in Raspberry Danish Murder, Hannah receives a terrible revelation about her now missing husband. Leaving readers on tenterhooks, Christmas Cake Murder dances around the crises by taking us way back in time (again). It's quite a cop-out, especially since the last several books have been more maudlin than mysterious and even hardcore followers are just in it to see the resolution of the left-field soap opera-esque Ross situation (i.e. please, please remove him from the series). Still, the last several back-in-time books from Fluke have evoked some of the old magic when the series was fresh and the wonder (and cozy) still new.
In Christmas Cake Murder, we have a teenage Hannah, freshly returned from a failed affair with her college professor and ready to ditch both love and the education game. She's mostly taking a college break, however, to comfort her grieving mother and accept the sudden death of her father. Andrea (already married) and Mitchell are along for the ride and the focus is less on grief and more on getting Delores back into the action and helping Hannah choose her future, with or without college.
Enter Essie Granger, an old lady with a big heart who has showed love for the town's children and, despite her poor living style, always puts everyone else first. Essie is not one to accept help, financial or otherwise, but a terrible fall has revealed just how bad her circumstances are and the town insists on doing something. When Essie starts reminiscing about the glory days of her now defunct hotel and the one Christmas where they did a lively party, complete with a parade of Christmas cakes, Hannah knows just what project Delores should be involved in. If baking, and more specifically fancy cakes, end up as a part of the equation, all the better.
Among Essie's old things, Hannah finds an unfinished novel, a riveting tale about a young, pregnant mother escaping gangsters and leaving her life behind to protect her then unborn baby. As the hotel comes back to life and the cakes begin baking, Hannah and family read further into Essie's novel, caught in a tale so unlike their own. When a shooter arrives at the Christmas Ball, it appears that Essie's book is more fact than fiction and everything, including a desperately held secret, must be revealed.
Christmas Cake Murder is not quite the traditional Hannah story, which is both good (in its way) and a letdown in other ways. We see the beginning of the Cookie Jar and get to plan along with Hannah – where will the display cases go and how will this old restaurant transform into the cozy little building that smells of chocolate, coffee, and love? The story is slow, much slower even than a usual Hannah story and if you expect a murder, you'll be disappointed. It's a winding tale, more filler than anything else, but such has the series been lately that this no longer even bothers us. We're even used to the inane conversations and the unnecessary details (i.e. who brings out the coffee cups, who cuts the cake, who hands out the cake, ad infinitum). What's different here, in a good way, is Essie's imbedded side story which is far better written and way more encapsulating than the Hannah tale which frames it.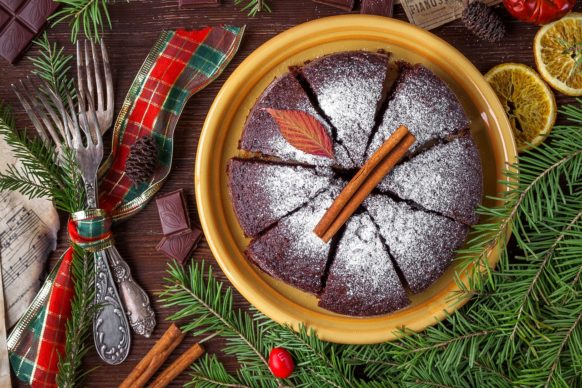 That's why it's a disappointment when Essie's novel stops at the climax and the end flat lines as a jumbled mélange of events and rapid explanations undermine Essie's carefully written, atmosphere story. From there forward everything is rushed and sloppy with a feeling that the author got tired, hit a deadline, or simply didn't know how to continue the thriller-esque novel of Essie's.
If you're also hoping for some insight into the young Hannah – her feelings after the shocking betrayal of the professor and her relationship with her father, expect the usual stoic, sparse asides as well. Even the Cookie Jar, which we are so happy to see take shape, is sidelined by the usual amount of grotesque overeating and endless fluff conversations.
Why then do I continue and why did I, I must admit, still enjoy reading this book as a prelude to my own Christmas? I can't really say. Perhaps there is some magic left in a series that was so well started, one of the first cozy mysteries out there to really get the concept rolling and create a band of characters who, while not necessarily realistic, are nevertheless effortless to envision, effortless to interact with and imagine. Despite the issues, and there are many, something of this series still remains in undertones and unexpected moments, evoking the nostalgia and warmth of the beginning. I'm still not ready to leave this world, yet. Not ready to forget Hannah, the new genre she introduced to me, the fresh out of the oven cookies and the swishing, silent snow.
– Frances Carden
Follow my reviews on Twitter at: https://twitter.com/xombie_mistress
Follow my reviews on Facebook at: https://www.facebook.com/FrancesReviews/
[AMAZONPRODUCTS asin="9781617732324″]

Latest posts by Frances Carden
(see all)