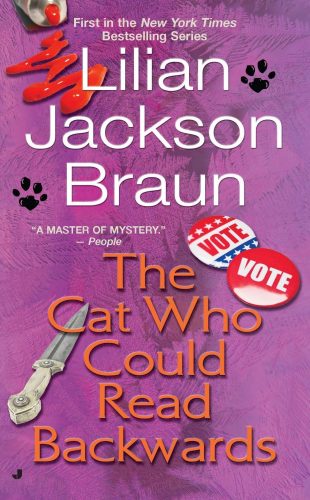 First in a New Cozy Mystery Series
Author: Lilian Jackson Braun
Jim Qwilleran has recently joined The Daily Fluxion, and as their newest reporter, he is immediately out of his depth, stuck in the art critic section. While he enjoys a good juice at the local press club, and a good complaint with coworkers, he realizes that he has fallen into the ominous shadow of the much hated main art critic for the paper – George Bonifield Mountclemens. What the weedy Mountclemens lacks in charisma, he makes up for with a poison pen. Mountclemens has sent many an aspiring artist into fits of grief and violent promises of revenge. Only the exalted few who are tied to the local Lambreth gallery are spared. Is that because of the strange new sculptor who is debuting there . . . or because of Zoe Lambreth, the dashing wife of the gallery owner?
Qwilleran becomes closer to Mountclemens, renting a room in the infamous critic's richly appointed house and caring for Mountclemens' unnaturally savvy Siamese. As Qwilleran watches the critic come and go, and benefits from his otherworldly talent with cuisine, he begins to suspect that the foul play is close to home. When the owner of the Lambreth gallery winds up stabbed and a crying Zoe comes to Qwilleran for comfort, his suspicions sharpen. Finally, when Mountclemens himself is targeted, Qwilleran steps from his dry beat of artist's profiles and, with the aid of the saucy Siamese, starts to unravel a murderous mystery.
As the first in The Cat Who series, The Cat Who Could Read Backwards is a perfect mélange of who-dunnit glory, kitschy cozy mystery charm, villainous characters, secret schemes, and just the right dash of cat action. I came across this series quite by accident, seeing it at a bookstore. I love cozy mysteries, and I am the definition of crazy cat lady and book hoarder extraordinaire, and I knew it was a must.
The story starts by introducing our main gumshoe, and we instantly bond. Qwilleran, with his almost-alive mustache and penchant for snooping, is just the right mixture of odd, funny, and clever, and he rises to the needs of the story, transitioning from playful to serious and back again. He is the perfect observer, at first, laying the groundwork and introducing us to the dastardly Mountclemens, who for all his foibles has my dream house, which is covered in books, fancy antique furniture, and filled with priceless paintings. It's hard not to love this villain for his house alone and the description of his perfect cuisine and Koko the cat.
As the story proceeds, it gets progressively more serious. We have our moments of cozy and the delightful, yet well played antics of Koko, but the author is sure to give us some clues to chew on and a mystery worthy of the name. It's easy to see that there are shady deals and connections galore, especially involving Mountclemens; but what are they?
The conclusion is a very nice twist and a great setup for Qwilleran to gain a feline sidekick and (hopefully) keep his dashing residence as his work on the paper continues to lead him into mysteries of the art world and desperate acts of murder and revenge. What's not to love? I can't wait to dive into the next book in the series and hear about good food, fancy felines, and deeds most heinous…
– Frances Carden
Follow my reviews on Twitter at: https://twitter.com/xombie_mistress
Follow my reviews on Facebook at: https://www.facebook.com/FrancesReviews

Latest posts by Frances Carden
(see all)