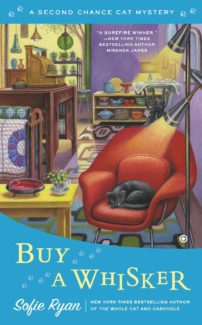 Crazed Killers and Cozy Cats
Author: Sofie Ryan
Returning to the charming world of antiques, cozy shops, Maine waterfronts, clever kitties, and lifelong friendship, Buy a Whisker continues the Second Chance Cat mysteries. Sarah, owner of an antique store where they refurbish and redesign unwanted furniture to make it beautiful again, is still relaxing from solving her previous murder. Along with her rescue cat, a battle hardened feral cat named Elvis who has a yen for mystery solving, she is following the progression of a huge town debate – the powers that be want to transform their cozy little town into a tourist trap extraordinaire. All the waterfront merchants are down with it too – the payoff is just too good – except one intrepid baker, Lily, who is ruining the cash cow for everyone.
When Sarah goes to visit Lily one morning for her regular coffee, the formally feisty baker is out cold, a broken corpse at the bottom of a flight of stairs. Who chose money over humanity – over the friendship of the formerly loved baker? Are the big corporations behind the demise or is the resentment more personal, closer to home? When Charlotte's Angels, a group of feisty older women who solved the first mystery – The Whole Cat and Caboodle – begin investigating, Sarah can only go along for the ride. Lily was a friend after all.
Murder and mayhem reign in Buy a Whisker alongside some potential romance, evolving friendships, and a dedication to recognize the wisdom and strength of older women (and men). This is the second novel in the series and it doesn't retrace much – it's presumed you already know the characters, their circumstances, and the complicated web of love and dedication. This makes it hard for a returning reader even as there are so many characters and the differences between the older characters – the self-named Charlotte's Angels – was difficult enough to follow and keep straight in the first book. Here, it's just not possible and the older women, imbued with so much personality, are still interchangeable.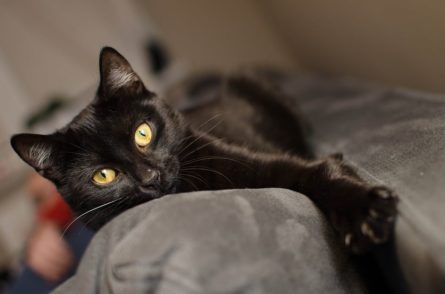 The atmosphere, however, is completely on point. I admit, descriptions of the store just make me want to go there, browse while sipping some tea, and buy all of the tea-cup gardens alongside some furniture (which I totally do not have room for). Elvis, the inimitable detective cat is bigger than life yet still, distinctly recognizable as a realistic furred companion. He can just read human nature – the subtle intonations beyond language that showcase lying and the capacity for evil – evil doers beware!
Sarah's personal life also progresses from her estranged relationship with a former best friend to her slowly developing love story. Along with Sarah, we're starting to receive answers to the haunting questions of the past – why do some people bond so strongly and then just fall apart? How do seemingly lifelong relationships dissipate? Is there ever a second chance for love, for relationship, for friendship? Can you truly forgive and forget or does the memory of past wrongs linger despite our best intentions?
As the mystery, and our characters' lives, progress some active sleuthing and deduction keeps the action relevant. Many times the cozy mystery genre focuses on atmosphere to the extent that clues and research dissipate. Buy a Whisker doesn't suffer from this problem at all and the ending, while it must always put the hero or heroine in imminent danger from a confessed murderer, was completely unexpected. Yet – it explains everything and it's so much deeper than a business deal gone bad, deeper even than greed, entangled somewhere between love and rage and buried secrets. I can't wait to pick up the next book in the series and watch as Elvis, Sarah, and Charlotte's Angels (as confusing as they are individually) discover and unravel more foul deeds.
Follow my reviews on Twitter at: https://twitter.com/xombie_mistress
Follow my reviews on Facebook at: https://www.facebook.com/FrancesReviews/
[AMAZONPRODUCTS asin="9780451419958″]

Latest posts by Frances Carden
(see all)