The Original Muse for Stephen King's The Shining
Author: Robert Marasco
Isolation and infatuation combine in the somber story of a crumbling mansion and a degenerating family. Marian Rolfe, devoted homemaker, lives for her apartment – its subtle yet elegant decoration, acquisition of antique pieces and obsessive sessions of polishing and placing meant to drive her husband and young son to distraction. What better place, then, could she possibly spend the summer than at the Allardyce Mansion with all of its elaborate rooms, carved doors, spiraling staircases, glittering chandeliers, and extensive grounds? Even the price is right, a mere $900 rental for the entire summer with the strange caveat that the oldest resident, Mrs. Allardyce (aka Mother), remains hidden in her chamber, requiring solitude and three meals on trays a day. Ben Rolfe is no match for the crazed enthusiasm of his wife who sees the work of restoration as a passion and the summer as an elaborate treasure hunt with antiques coming to glowing life beneath her adept fingers. And while the house seems somehow uncomfortably sentient to Ben, while even the hint of a certain unstable malice pokes through the chatty veneer of the odd brother and sister who rent it, and the cloying weed choked entrance feels like a closing portal, his wife's ultimatum determines their summer and, unwittingly, their violent destiny.
The original inspiration for Stephen King's The Shining, Burnt Offerings is a psychological story of slow madness and grim supernatural renewal. The atmosphere is crafted to evoke the ostentatious grandeur of old places and the beauty of bygone things, something antique lovers like myself immediately feel compelled to embrace, yet Marasco embeds an undercurrent of paranoia. It's the old adage that if something is too good to be true, then it probably is, and beneath the almost prescient materialization of the Rolfe's opportunity is a hint of blood sacrifice and ancient rites.
Nevertheless, the enthusiasm of one hopelessly addicted family member begins the journey; Marian and Ben, formerly happily married, take their young son and elderly aunt along for what is ostensibly a restful away-from-responsibilities summer.  As the house transforms and renews its former glory, however, Marian becomes more absentee and strange emotions and inexplicable events begin to slowly insinuate themselves between the malaise of waking hours and nighttime fears. What exactly, then, is behind Mrs. Allardyce's door and what does Marian, so consummately capable of lying to herself and others, really know about the entangled violent incidents and the shuddering tremor of portent?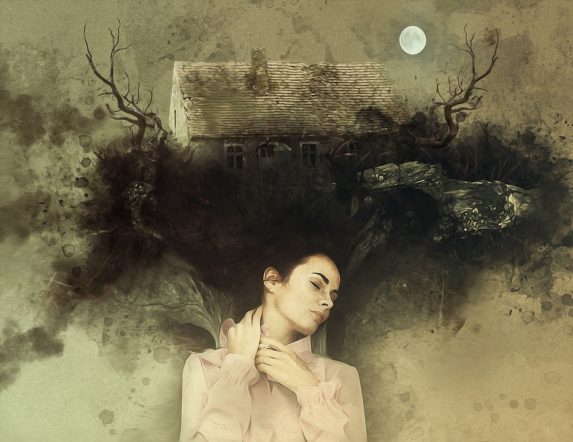 Meanwhile, as Ben navigates his dying relationship with his suddenly cold wife and hallucinations plague him, he questions both his sanity and the presence of something "beyond" in the house. As Marian's restoration goes beyond what is actually possible and likely, Ben's fears morph themselves into a self-consuming anxiety only to arise into a call for action when his son's life is at stake. It may, however, be too late by then.
Like the 1976 movie based upon the book, Burnt Offerings is sinister without relying on gore; the fears themselves are more mental, giving the entire story a dirge-like feel as we switch narrators between a wary Ben and an obsessed Marian. Can a house really be a being? And if so, what does it, or whatever lives in it and controls it, want? As the puzzle begins to shift, subtle details emerge to create a full-scape horror and it's through this technique of Hitchcock like horror and subtle mystery that the true calling of the book is felt. The atmosphere, not so much the story, is what makes Burnt Offerings terrifying and memorable. Yet even the story itself, as Stephen King showcased by emulation, is different and unique, the heart of mystery still throbbing open in the conclusion when what is wanted is revealed but never the full spectrum behind the why. This makes the house and the mystery itself feel eerily ageless and gives readers a creeping horror that whatever it is, it's still very much out there.
The only hitch in an otherwise unique story is the slow pace; in some ways this compliments the building nature of the atmosphere and the transformation from benign to questionable to downright supernatural. Yet, since the characters, namely Ben and Marian are there to showcase a feeling, an essence, the slow pace is more evident. We care about the characters in the way of all horror novels – the basic human connection plus a drive to find out how this train wreck crashes to a mangled ending. The actual identification of people in the story and the drive for those individuals, however, is missing and so the slowness only accentuates that while the story is phenomenal and the atmosphere haunting, the human pathos is negligible. Perhaps, considering how it all ends, that spares readers quite a bit.
Overall, Burnt Offerings is a grim tale that earns its cult status; a book that is sure to chill and invade the dreams – permeating and taking hold.
Frances Carden
Follow my reviews on Twitter at: https://twitter.com/xombie_mistress
Follow my reviews on Facebook at: https://www.facebook.com/FrancesReviews/

Frances has a Masters in Fiction Writing from Johns Hopkins and works as a technical writer during the day, where she attempts to make software exciting.

Latest posts by Frances Carden (see all)