Of Greed and Law
Author: Charles Dickens
Charles Dickens has been my favorite author since grade-school, when I first encountered his lyrical prose and deep, sometimes acerbic understanding of humanity in David Copperfield. Since then, I've read more of Dickens' work (although not as much as I would like). Following his trail through the most famous first (A Christmas Carol, Great Expectations, Old Curiosity Shop), I arrived at Bleak House – a novel that many claim is Dickens' most powerful.
This story starts in the courts with the long running Jarndyce and Jarndyce, a complicated case involving wills and inheritances. Dickens wit soon comes into play as he takes the reader through the ridiculous obfuscation of court and the posturing of the greedy and worthy alike, all of whom are played by their attorneys and the inadequacies of the system.
Meanwhile there are living souls connected to the case, each affected in some vital way, even if they only tangentially live in the shadow of Jarndyce and Jarndyce. Our narrator, Esther Summerson, is a poor orphan, taken in by Mr. John Jarndyce, who himself refuses to have anything to do with the case. Esther works as a housekeeper and companion for the two other young souls Jonh Jarndyce guards: Ada and Richard. Together, the three grow up, each affected by the case in different ways, each seeking a place in the world. Mr. Jarndyce himself remains a beacon of unlikely kindness and wisdom, shunning the case and living a life of generosity to all whom he encounters. It's not enough, however, to keep his wards from becoming tempted by the promised wealth of the case and the rumors that inundate it.
Meanwhile, other characters flit around the central stage. Their connections become apparent as the story continues, although it's a difficult set to track. There are wayward family members who plot on the sides, a man who spontaneously combusts while holding some important papers, an inspector lurking at the sides, a young street urchin who sees something he shouldn't, a great lady who holds her secrets close, a vengeful maid, an old solider and his outspoken wife, a kind doctor who comes out of a shipwreck as a hero, an old woman who collects birds, and MANY MANY more. It's a colorful, but frankly impossible cast and even Dickens, the master of creating and peopling worlds, cannot keep up with all the moving pieces and imbue each of them with his usual depth.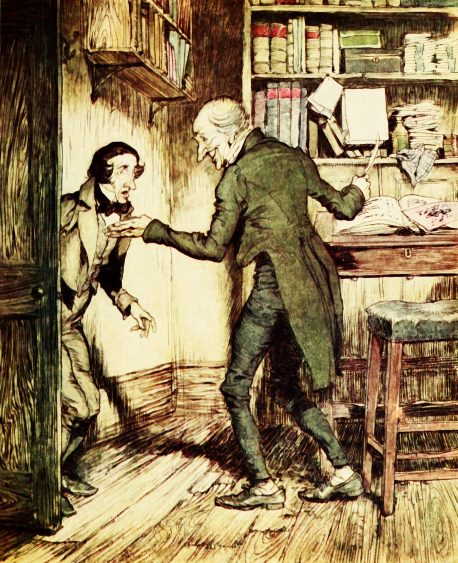 The half-amusing, half-stultifying thing about Bleak House is that Dickens mimics the slow feel of the court, the endless recycling of the same old arguments that keeps everything locked in gridlock, the lawyers growing richer, the clients more disillusioned. Apparently, a lot of social reform was achieved through this look at the failed court system that Dickens employs, and for that his social commentary achieves everything it set out to do and more. As far as the story itself and the mere pleasure of reading is concerned, however, it's much weaker and harder to follow than Dickens' usual fair. There are a lot of side conversations and some frankly extraordinary goings on, all backlit by Esther's unnatural perfection and humility. It's not bad – Dickens is simply incapable of writing anything bad – but it slow and unnecessarily complicated.
Still, a lot of heady emotions come into play here, and in between the more sedate (overly lengthy) conversations with minor characters, some exciting, earth shaking events take place. People are found and lost, hope crushed and regained, alliances formed and dissolved. It's a beautiful story in what it achieves and in the portraits it paints. It's just not Dickens' strongest story, and these are not his best characters (with the exception of John Jarndyce). Dickens fans and fans of good literature should not miss Bleak House, but it also shouldn't be your first Dickens or the highest on the list of his must-read books.
– Frances Carden
Follow my reviews on Twitter at: https://twitter.com/xombie_mistress
Follow my reviews on Facebook at: https://www.facebook.com/FrancesReviews

Latest posts by Frances Carden
(see all)