Bodies at Risk…
Author:  Ta-Nehisi Coates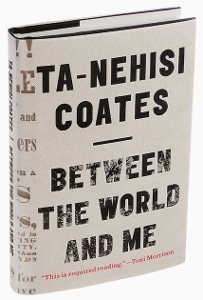 Trayvon Martin, Eric Garner and Michael Brown were never slaves. But in the end, they had no more right to control their bodies than any random cotton picker in Georgia circa 1800.  That's the essence of the argument Ta-Nehisi Coates makes in Between the World and Me, a remarkable extended essay written to his 14 year-old son, Samori.
Coates, an award-winning African-American journalist, grew up in Baltimore, frequently encountering gang and drug related violence from an early age. While he no longer faces the same daily dangers that he did in his youth, he still lives with the persistent apprehension that as a 40 year-old black man in America his body can be placed at the mercy of the authorities at any time.
At first glance, you may find the author's opinions too extreme or exaggerated, but that's why you need to read the book. I suspect that much of your reaction to his eloquent prose is going to depend on who you are.  Black.  White.  Male.   Female.   Rich.  Poor.  Urban.   Suburban.  Father.  Mother.  I can only speak for myself, but this financially well off white father of two kids not much older than Samori, found Coates' passionate and skillfully rendered arguments fully compelling.
Reflecting on his own personal experiences, his journalistic research and the stories of countless black victims of officially sanctioned violence, Coates describes how the persistent echoes of slavery continue to reverberate in modern America.   What to most people seems like ancient history still maintains a real presence.  The technology has changed, but this reality hasn't.  Coates is convincing in his view that black male bodies are not really any safer today than they were in 1841 when Solomon Northup was kidnapped and enslaved for twelve years.
Winner of the 2015 National Book Award for Nonfiction, Between the World and Me is a powerful look at life as a black man in the USA, poignantly conveyed to a brave man's teenage son.  A cold splash of water to those who want to believe that racism is a thing of the past, it's a profound and timely exploration of the many ways the American crime of slavery continues to stain the fabric of our culture.  Highly recommended.
— D. Driftless
author photo by Eduardo Montes-Bradley (CC BY-SA 4.0)
Other reviews about American slavery:
The Wanderer   /   The Half Has Never Been Told   /   The Counter-Revolution of 1776   /   Twelve Years a Slave
[AMAZONPRODUCTS asin="0812993543″]