This Year's Best New Cozy Mystery Series
Author: Mia P. Manansala
Lila Macapagal does not want to be in her stifling, small hometown again with her well meaning but old fashioned, matchmaker Aunties. But the family restaurant needs her help. She's also running from the fall-out of a very bad breakup. When one of her old ex-boyfriends, infamous local food critic Derek, shows up to start dishing some bad publicity and instead ends up dying in the middle of her restaurant, Lila's bad luck multiplies. Detective Park is sure Lila had an axe to grind with her ex, and when he finds an opened box of arsenic in the kitchen he sees it as an open and shut case. But to know Derek was to hate him. Everyone in the town, from other small restaurant owners to jilted lovers, had a motive for murder. Lila knows she didn't do it, and to save herself and the family business, she begins to do a little gumshoeing of her own. But has she literary bitten off more than she can chew?
When I first saw the cover and title of Arsenic and Adobo on Book of the Month's site as the April selection, I knew I had to get it. BoTM has long recommended a variety of genres, but this was the first cozy mystery to make it into the monthly recommendations (at least in my several years as a subscriber). Cozies are a fairly recent sub-genre, yet they already have a wildly growing fan base and countless series and even TV shows now, and there is a good reason for that! They combine the intensity and brain work of a mystery (and even at times a thriller) with the feel-good vibes of a cozy, character driven sleeper. It's a different genre, though, one that is less "real." After all, depicting real grief, accurate police procedures (that do away with the need for your clueless amateur gumshoe), and grizzly murder is a cozy mood killer. I joined the cozy lover crowd with the Hannah Swenson series, and am familiar with the addictive atmosphere and fluffy logic of cozy mysteries. Arsenic and Adobo is no exception to the formula. What it does is take the formula and run with it, combing delicious food, a likable group of characters, the requisite cute pet, the murder of a completely unlikable villain (who so has it coming), and a swath of shady suspects. Perfection.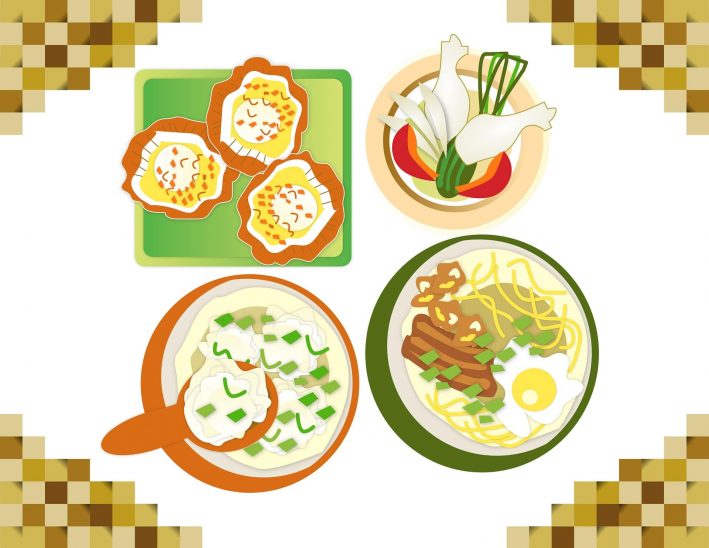 I enjoyed every moment of this story and Lila's snarky, self driven investigation. It also awoke a NEED in me to try Filipino food, and I have some of the recipes in the book bookmarked for later.
As with all cozy mysteries, it's a simple premise and the investigation is more built on unofficial chit-chat than danger defying stunts or even complex back-room calculations. Lila and her long time friend, Adeena, who can make the perfect coffee, team up to start quizzing local restaurant owners. If you're not already hungry by this point, prepare to be drooling on the book as the duo starts to work through local gossip and everything that is unsaid. What unravels is a squalid story of just how far Derek has fallen from grace and a complicated web of deceit, backbiting, and general shenanigans.
Along the way, we get hints of the series to come as two potential suitors hover around Lila. The love-triangle angle is classic cozy mystery, but it is set-up well here and promises to develop into a robust character story that will follow along with Lila's new crime solving escapades.
Sound silly? Sound improbable? Push all your logic driven, late night true crime Podcast buttons? Then cozy mysteries are not for you. Avoid the genre. Sound cozy, lovable, full of sunshine and good food and a little light brain teaser, along with a snarky heroine who likes to eat too much and loves dogs? If so, Arsenic and Adobo is YOUR book. If you liked the Hannah Swenson series, especially if you find yourself still dialing in 20+ books later in the downhill slide, then this is the new series you need to add to your bookshelves. I just preordered the next one. I even gave some simple chicken adobe on All Recipes (these recipes here are intimidating – where will I find these ingredients!) a try and hope to further explore the absolutely delicious sounding world of Filipino food!
– Frances Carden
Follow my reviews on Twitter at: https://twitter.com/xombie_mistress
Follow my reviews on Facebook at: https://www.facebook.com/FrancesReviews

Latest posts by Frances Carden
(see all)