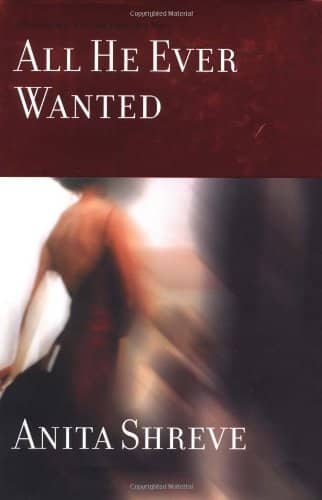 Love, Obsession, Destruction
Author: Anita Shreve
On the way to his sister's funeral, Nicholas Van Tassel is thinking about his life, his obsessive love, his family, and how he lost it all. Thirty years ago, in 1899, Nicolas arrived in New Hampshire to start his career at Thrupp College. Everything was possible. Everything was new. And then, in the wake of a fire at the local restaurant/inn, he met Etna Bliss, and she became all he ever wanted.
Etna had her own quite dreams, her own longings. They were not for Nicholas. But he persevered until she finally agreed to marry him, half through desperation and half through pity. But it was ok, he told himself. His wife would grow to love him.
As the years went by, Nicholas continued to hope and Etna to harden. Nicholas succumbed to his worst qualities and Etna to hers. The pair danced around the issue, around each other, until finally everything came to a head, as it must, and Nicholas was left with a choice.
All He Ever Wanted is an odd story, told in the tone of yesteryear. Nicholas tells events through his own voice, his flowery interjections and stream-of-memory observations belying his own limited nature, his own shortcomings and self-righteousness. Yet, there is something vulnerable about him as well, and while I wanted to hate Nicholas and often found him laughable, there was a realistic quality of humanity that left him pitiful as well. Or, at least, a person to be pitied. Don't we all succumb to our own delusions, our own wants, at times? Telling ourselves that that things will work out, that they have too, because we want them too. At the time Nicholas met Etna and wove his dreams around her, he was young, and he knew no better. And so, it's not exactly a love/hate relationship with Nicholas, but an assent that the tragedy is off his own making, but no less sad, no less relatable.
Etna is another story. Partly, this is because Nicholas colors everything we see, and we hear of her through him. Yet it rings true. Her aloofness. How she agreed to a marry a man she would never love. Yes, she was honest and forthright with our antagonist, yet she could have tried to find something human in herself as well, a middle ground that at least acknowledged the pain behind the love given to her.
And so, it's a weird story, where neither character is very likable, and both do increasingly despicable things to one another. But it's also got that train-wreck appeal that overshadows all the characters' hopes and dreams and attempts at a happy life. The old style writing also grows on the reader. It makes us feel as though we've found some ancient journal, an insight into a very real feeling tragedy. The pathos of a life, one not especially well lived but not started with ill intent, is equal parts captivating and emotional. Light on Snow remains my favorite work of Shreve's, but All He Ever Wanted is a worthy story and an engaging read. Something about its quite marital bitterness, it's life of togetherness built on slights and cold silences and escalating misdeeds demands a sympathetic reading while providing a stark warning.
– Frances Carden
Follow my reviews on Twitter at: https://twitter.com/xombie_mistress
Follow my reviews on Facebook at: https://www.facebook.com/FrancesReviews

Latest posts by Frances Carden
(see all)