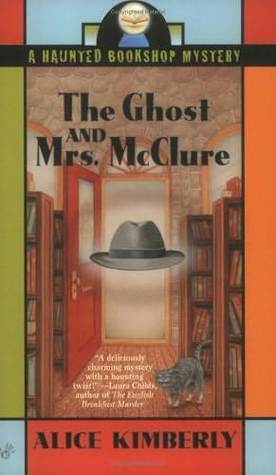 Spooky Sleuths & Haunted Mystery
Author: Alice Kimberly
The recently widowed Penelope Thornton-McClure has decided to do what she never could when her husband was alive: run from his opulent and controlling family and start her own life. It's certainly not easy, nor are her complicated feelings about widowhood. Now that she is in the tiny town of Proofrock, living out her dream of running a bookstore with her Aunt Sadie, she thinks perhaps with time and patience, this new life will help her heal wounds and move on. That is . . . until a famous novelist comes to her shop for an event and drops dead. Turns out, he's been murdered, right after making a big announcement. This could be the death kneel for Penn's new life. The twist? The ghost that lives in her shop – once a hard-bitten detective – is on the case, and he's going to work through the living to solve it.
The Ghost and Mrs. McClure is the first in The Haunted Bookshop series, which is written by the husband-and-wife team Alice Kimberly, also known as Cleo Coyle, who are responsible for my beloved, long-running Coffeeshop Series. Since I'm all caught up (for now) on that series, I decided to try this one out. I was surprised by the different tone and feel of The Haunted Bookshop series. At first, I didn't like it, especially not Jack Shepard's misogynistic, hard-bitten, fedora wearing, stereotypical forties detective slang, where everyone is dames or gals. It seemed way too caricatured, and within the beginning prologue, I was ready for the petulant ghost to permanently depart. But, as Penn moves through her new life and we meet the famous author who storms into her story with a giant chip on his shoulder, I started to get interested despite myself.
As the story develops, our ghost starts to tone down (a little) and we also start to get used to his ways. Penn is the only person who can interact with him, through a weird blip of fate and an odd talent, and so the two become an unlikely duo. The fact that Jack's supernatural powers are limited to the place where he himself was murdered – the now bookshop – keeps his ability to eavesdrop from being too convenient. That, and just like the humans he tries to trail, he can only be in one place at one time.
As the story moves forward, there are loads of suspects. The dead author, good as his writing might have been, certainly wasn't charming during his actual life. Indeed, he had quite a few enemies from his wife to his son-in-law to random people he met on the street. And the method of killing, well, everyone had access, and everyone had motive.
With Jack's life experience as a real detective and Penn's determinedness to fight for the bookshop, I couldn't help but become invested, even to the point that Jack's movie noir slang become somewhat less irritating. After all, even our handsome ghost got some characterization and there are multiple reasons to feel empathy for him in his very confined afterlife.
The story ends as all cozy mysteries must: with danger and confrontation. But this story was a bit cleverer than your average cozy. With a PI ghost giving you advice, it's easier to setup an elaborate sting and get the prep to confess. What we have left, however, is another mystery that might tie into our ghost's inability to rest and that final case that he died trying to solve.
Overall, The Ghost and Mrs. McClure was a great beginning to the series. I can see the characters growing, the setting become more of a real place, the bond between reader and this cozy, paranormal world solidifying. I'll be back to read more of this series.
– Frances Carden
Follow my reviews on Twitter at: https://twitter.com/xombie_mistress
Follow my reviews on Facebook at: https://www.facebook.com/FrancesReviews

Latest posts by Frances Carden
(see all)