Summer 1928…
Author:  Ray Bradbury
Summer.   Just the word evokes feelings of freedom and excitement when presented to the school aged child that still resides deep inside even the most jaded adult.  That special season may be the reason that the word nostalgia was created.   The joys of summer jump from every page of Ray Bradbury's classic,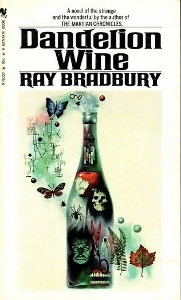 Dandelion Wine, first published in 1957.
Bradbury tells the story from the perspective of Douglas Spalding, a twelve-year-old in Green Town, Illinois.  This energetic and inquisitive schoolboy spends the summer of 1928 exploring the magic of this small fictional city, in a time before radio or television transformed the American experience.  Douglas' only technological aid is a sharpened pencil and a notebook, on which he lists all of his summer experiences lest he lose track of them.  He records the first trip to the soda shop, the first round of kick the can, the day he gets his new tennis shoes, his wild strawberry and grape picking trips and the first batch of dandelion wine that he bottles with his grandfather.   All relatively wholesome and happy activities, but Bradbury weaves some very dark threads of mortality and fear into the story, told with all the youthful exuberance of a twelve-year-old.
Unlike his more famous works, like Fahrenheit 451 and The Martian Chronicles, this story – more accurately described as a collection of loosely connected stories – has nothing to do with science fiction or fantasy, although Bradbury dances around the supernatural at times.  His nostalgia for small town America oozes from every page, presented with a realism that's quite striking at times.  The edition I have includes an introduction written by the author in 1974, where he reveals that the book is based on his experiences growing up in Waukegan, Illinois.  While his longing for a simpler and purer past is evident in the stories, he clearly relishes uncovering the dark and warty side of early 20th century middle Americana.
I first read this book when I was a teenager – probably during the Carter administration – so I wasn't quite sure what to expect so many years later, but I still find the book quite remarkable.  Bradbury's inimitable descriptive powers evoke a strange desire for memories that I don't actually possess, not having grown up in the 1920s.  The multisensory literary worlds he creates draw me in like few writers can and the contrast he creates between Spalding's buoyant naiveté and his dark wisdom is memorable.
While it was fun to read Dandelion Wine again after so many years, I must admit that that time hasn't been so kind to the work.  Given that it's more than 50 years old and takes place more than 80 years ago, maybe that's not so surprising.  I'm sure that some readers will be annoyed by the dated aspects, but it's worth a read for anyone who's fond of Bradbury's other work or who enjoys unique creative writing.  Or maybe you just want to revisit what it was like when you wanted summer to last forever.
—  D. Driftless
author photo by Alan Light
[AMAZONPRODUCTS asin="0380977265″]