Family Secrets…
Author:  Nina Bunjevac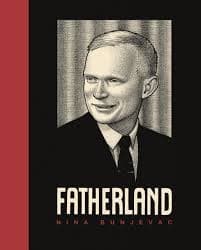 No matter how tragic the war, no matter how many millions perish, there will always be those who try to take advantage of the disaster and seize power.  They will attempt to rise victorious from the rubble, often perpetuating the cycle of violence endlessly.  So it was on the Balkan Peninsula during World War II when various ethnic and political groups battled to gain control in the turmoil created by the occupying and resistance forces.  In what was then known as Yugoslavia, the conflict was particularly intense – with communists fighting royalists, Croats killing Serbs and so on – resulting in the death of almost two million citizens before Marshal Tito forcefully united the country in late 1945.  The resistance to Tito subsequently went underground for decades, perpetrating numerous acts of terrorism all over the world in an attempt to overthrow Yugoslavia's communist government.   Canadian-born graphic artist Nina Bunjevac gathered bits and pieces of this story while growing up, eventually learning that her father – a Serbian nationalist in political exile since the 1950s – had been deeply involved in the violent resistance.  After performing extensive research and combing through her family's photographic archives, she pieced together her father's story in Fatherland.
Illustrated with beautiful black and white graphics – many based on family photos – Bunjevac tells of her father's childhood during the war, his subsequent dissident acts – which resulted in his exile to Canada – as well as his long distance romance with Nina's mother while he worked in the mines of northern Manitoba.  The author also offers a crash course in mid-twentieth century Yugoslavian history in an attempt to explain what motivated her father to continue fighting for his country's freedom well into the 1970s.
Unfortunately, I didn't find Bunjevac's story very compelling.  While the history is interesting, her father's story is short on heroics and long on barbarity, making it hard to do anything but be appalled.  The victims of his fanaticism, including but not limited to the author, her two siblings and her mother, are well represented, but the cold prose and graphics don't effectively generate much emotion or drama.
Fatherland is an important story, but it needs a more powerful format to appropriately capture the full tragedy of events.  While there's no questioning Bunjevac's technical skill as an artist, I don't think that the book succeeds from a dramatic perspective and I'm not able to recommend it in the end.
— D. Driftless
[AMAZONPRODUCTS asin="1631490311″]