What's the Uighur word for dull?
Author:  Nick Danziger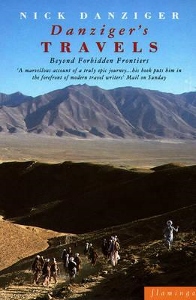 The best adventures are the ones you create on your own.  It's with this philosophy that London native Nick Danziger likes to approach his travels and in the early 1980s – still drifting a bit in his mid-twenties – he convinced the Winston Churchill Trust to sponsor his dream trip: a solo adventure across the breadth of Asia, following the ancient Silk Road.  With his formidable traveling wits and plenty of luck, he managed to live to tell his tale in Danziger's Travels.
Despite a bevy of naysayers, Danziger hops a train to Istanbul, and treks through Turkey, Iran, Afghanistan, Pakistan, Xinjiang, Tibet and China, where he finds an ocean freighter to take him back to Great Britain.  If he's not on foot, camel or horseback, he's hitching rides on trucks, tractors or donkey carts.  He goes to extraordinary lengths to travel as modestly as possible, striving to experience life in these various locales as authentically as he can.  Despite the fact that he spends most of the journey disguised as a Muslim hobo and possesses little more than a passport and some official looking papers in various languages from the Churchill Trust, he manages to cross numerous hostile borders, defying officialdom at almost every opportunity.  Spending only about $1500 over the 18 months of his trip, he relies on the kindness of strangers, making many new friends along the way.
Debating with Iranian fundamentalists, fighting Russians with the Afghan mujahedeen, climbing the passes of the Himalayas with Uighur peasants, exploring the mysteries of Buddhist holy sites with Tibetan lamas and scheming to navigate the bureaucracy of Red China, Danziger risks life and limb repeatedly on this one-of-a-kind adventure.  If only the book was as good as it sounds.
Despite thousands of rugged miles and numerous brushes with danger, this might be the dullest 400 pages I've ever read.  The contrast between the magnificence of the adventure and the flaccidity of the prose could not be more stark.
In Afghanistan:
"Up and down we raced, on one occasion scaling a mountain which I cursed and cursed as the rocks cut my hands and the sweat ran into my eyes and stung them, but which rewarded me when I reached the top with one of the most stupendous views I have ever seen."
He uses many words, but rarely seems to have much to say.  Much of the book is devoted to boring descriptions of his efforts to cross hostile political borders, extend his visas or obtain approval to go into "forbidden areas".  If he doesn't get permission to move forward, days and weeks of tedium ensue as he repeats his efforts.  And repeats them again.
I also found it remarkable how little he had to say about language.  While the author grew up speaking English and French and has traveled extensively in Latin America, he doesn't really explain how he learned Uighur in just a couple of weeks, not to mention the dozens of other languages he encounters.  As far as I can tell, he didn't even know there was an Uighur language when he left home.  It's not until he gets to China that these kinds of obstacles get much mention.
One would think that somewhere in all his wanderings there's a good book hiding, but Danziger didn't find it.  While a solo adventure can make for thrilling reading, sometimes writing a book isn't a wise do-it-yourself project.  For lack of a good literary Sherpa, Danziger's Travels fails to make it to the summit.
— D. Driftless
pass photo by Jailiang Gao
[AMAZONPRODUCTS asin="0586087060″]