Sweet Home Wisconsin…
Author:  Michael Perry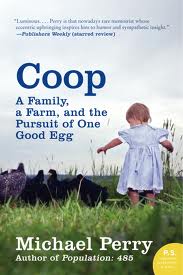 It's a pretty common fantasy.  Purchase a quaint farmhouse in the country, one accompanied by a big red barn and a picturesque twenty of acres of verdant pastures.  A small creek would be nice.  Raise some pigs and chickens, maybe a cow or two, and live off your own labor and the bounty of the land.  I dreamt of this kind of life often as a youngster, although I was just a suburban school kid without a clue.  But Michael Perry grew up in rural Wisconsin, so when he finally returns to the country after a couple decades' absence he at least has a chance of success.  He tells his story in Coop, a thoroughly entertaining memoir of a new life on the farm.
Following a childhood spent on his family's dairy farm near Eau Claire, Wisconsin, Perry spent time as a single guy, attending nursing school, traveling the world, working on a ranch in Wyoming and perfecting his craft as a writer.  But when a new wife and step-daughter become part of his life, he decides to return to his roots and moves into his mother-in-law's vacant farmstead, not far from where he grew up and where much of his family still resides.  With wit and poignancy, he tells of the thrills and struggles of his new family's first year on the farm.
Never reluctant to reveal his many fumbles, Perry writes about his dogged efforts to raise chickens and pigs while simultaneously adjusting to life as a married man and father.  His account of his wife's delivery of a new baby girl – with the assistance of a local midwife and large portable bath tub – is one of the highlights of the book.  While he writes with an obvious fondness for rural life, he doesn't hesitate to reveal many of the more gruesome realities, particularly when it comes to living with pigs.
Writing with abundant skill and humor – that often reminded me of great small town memoirists like Jean Shepherd and Garrison Keillor – Perry is at his best when describing his shortcomings as a handyman or chicken coop builder.  He frequently relies on his friends and family to help him overcome the obstacles he runs up against.  But the book is much more than just a story about farming ineptitude, it's a thoughtful memoir about old relationships with his parents and a remarkably large cast of siblings, as well as new relationships with his wife, step-daughter and new baby.  Perry's ability to weave heartfelt nostalgia and tenderness into genuinely funny stories makes for a truly memorable and enjoyable read.
Sure to interest anyone who still has dreams of an idyllic life on the farm, Coop is an entertaining look at one man's real-life experience, warts and all.  This Wisconsin boy recommends it highly and plans to seek out more of Perry's work in the future.  Maybe I should even get a chicken or three.
— D. Driftless
pig photo by Mark Peters
[AMAZONPRODUCTS asin="0061240443″]