Spring is in the Air!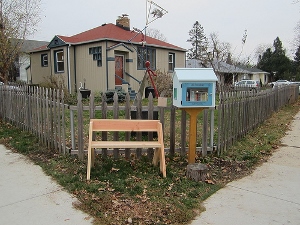 Wearing a short-sleeved shirt, biking home from work on the first really warm day of the year, the sun was shining bright and spring was in high gear.  It was a good day to stop at the Little Free Library at the east entrance to the University of Wisconsin Arboretum, home to bugling sandhill cranes, squawking red wing blackbirds, diving coots and strutting tom turkeys.   But spring has been unreasonably late this year, so despite the warm weather, the magnolias were just starting to reveal their blooms and the spring peepers weren't quite ready to peep yet.
With just a few clicks, you can find it on the worldwide LFL map, an unassuming light blue box mounted next to a rustic bench on the corner, easily accessible via an adjacent bike path.   Unfortunately, on the inside, there wasn't much happening.  Maybe a half dozen books total, looking a little forlorn.  Even what was there wasn't very exciting:  Dune Messiah, the second installment in Frank Herbert's Dune series; Alistair MacLean's Caravan to Vacarrès and blogger Ree Drummond's romantic memoir Black Heels to Tractor Wheels.
Given the literary paucity, it didn't take long for me to make a selection, The Nursing Home Murder published in 1935 by Ngaio Marsh DBE – an acclaimed Kiwi author – featuring her most famous character, Inspector Roderick Alleyn.  Not exactly my cup of tea, but maybe my mystery-loving wife will enjoy it.  In its place I left behind the book I'd selected on my first LFL adventure, River of Death.
The beautiful weather allowed me to quickly put memories of this disappointing trip behind me as I pedaled on.  This library needs a little more love.  Maybe as the spring blooms, increasing foot and bike traffic will help increase its holdings.   If not, I'll stop by and make a few donations later in the year.  When sunny skies frequent your locale, consider a trip to the Little Free Library nearest you to make sure it's getting the attention it needs.
LFL photo by BookusBinder
crane photo by Steve Emmons USFWS.