Walnuts and Wooly Bears…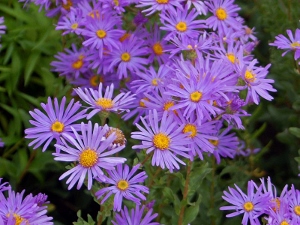 A beautiful Wisconsin fall morning.  Purple and white asters blooming in the fields.  Wooly bear caterpillars searching for a winter hiding place.  Grasshoppers realizing their days are numbered.  Coots huddling in the bay.  Sumac turning red.  If it weren't for the prodigious number of big fat walnuts cluttering up the bike trails, it would be the perfect day for a ride.   Regardless of the season, it's always a good day to visit a Little Free Library.
Opting for a more random approach today, improvising a route as I pedaled, I checked a couple libraries before I found one to my liking, tucked away in a cute little neighborhood on Madison's near west side.  Meticulously decorated with tiny flowers and birdhouses, the windowed attic featured a small family of clothespin people wearing yellow felt outfits.  Down on the main floor were a wide selection of books, including Out of Africa, Jane Eyre, a biography of both Mao Zedong and Deng Xiaoping and a Gay Talese novel.  Despite the clear blue skies, I chose a paperback edition of Sebastian Junger's bestseller The Perfect Storm.
Leaving behind Shrinking the Cat – a book by Sue Hubbell about genetic engineering before fancy modern science got involved – I got back on the bike and headed home, already thinking about my next LFL adventure all the while watching out for any more treacherous walnuts.
 aster photo by hectonichus