No Work Friday!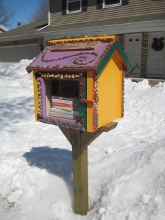 Have you ever noticed that the sun shines brighter when you take a Friday off of work?  It's a beautiful sunny first Friday of spring – although it's still colder than a vampire's derriere – a good day for a visit to a Little Free Library.  After consulting the on-line LFL map before heading to the grocery store, I hopped on my bike, frequently weaving my way around bits of ice and rivulets of melting snow.  Located on a quiet residential cul-de-sac, adjacent to a picturesque ice-covered pond in a nearby suburb, this library is mounted in front of a well-maintained duplex.
Attractively covered in a burst of color, standing out from the adjacent white snow banks, this library is creatively adorned with dozens of textured chunks of pottery.  Looking inside, the library is generously stocked with a wide array of books, from Nobelist Doris Lessing's Love, Again to a Mary Higgins Clark paperback.  I also spotted John Irving's Until I Find You and a small picture book about the noises that farm animals make.
After briefly perusing my options, I selected a paperback copy of Off the Planet, a firsthand account of five months spent aboard the space station Mir, by US astronaut Jerry M. Linenger.  I'll always choose science geek non-fiction first and I think that I may have already read the farm animal book.  In place of the space book, I left The Iowa Baseball Confederacy, a novel by W. P. Kinsella, of Shoeless Joe and Field of Dreams fame.
I quickly closed the library door, stashed my new book in my bag, put my mittens on and I was back on the bike, after dodging a few seemingly omnipresent driveway glaciers.  A fruitful visit to another Little Free Library, obviously built and cared for by a true bibliophile.