Leavin' on a Jet Plane…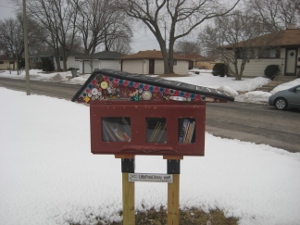 Our bags were packed and we were ready for adventure as we arrived at our hotel near Milwaukee's General Mitchell International Airport.  The next day we would hop on a flight to Punta Cana in the tropical, rum-filled paradise of the Dominican Republic for a week of lounging and reading.  The Milwaukee weather was appropriately cold and blustery, generating plenty of enthusiasm for an escape to warmer climes.
After we checked in, I had a few minutes before dinner, giving me time to find the nearest Little Free Library, located by consulting the worldwide LFL map.  Literally two left turns and about six blocks later I spotted my quarry on the corner of Milwaukee's Jewell Playfield.   Cleverly constructed with a dual slope roof, the library is enthusiastically decorated with all sorts of buttons and reflectors, definitely a one-of-a-kind edifice.   Holding a flower and sitting at its base, the library is guarded by a fat porcelain frog who looked a little out of place in the wintery weather.
The library was well stocked with books for both kids and adults, featuring some works I recognized like Into the Wild by Jon Krakauer and The Reader by Bernhard Schlink as well as books with which I was less familiar like Jodi Picoult's House Rules and A. Manette Mansay's Vinegar Hill, which I later learned is set in Wisconsin and was the November 1999 selection for Oprah's Book Club.
After a brief perusal, lacking the necessary winter attire for a prolonged visit, I selected a paperback copy of Devil's Gate: Brigham Young and the Great Mormon Handcart Tragedy by acclaimed mountaineer and author David Roberts.  In its place I left Dinosaur Tales, a slim compilation of Ray Bradbury short stories.  A chilly, but successful start to a great book-filled tropical vacation and my first LFL excursion taking me far from home sans bicycle.  Why not check out a Little Free Library on your next adventure?
photos by the author