Cows, cranes and chicken books…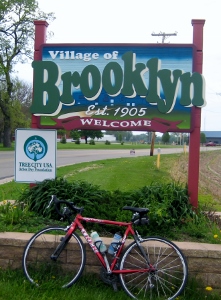 There are well over four thousand Little Free Libraries worldwide – new ones still keep popping up all over my neck of the woods – and a brief glance at the LFL map is likely to reveal at least one library near almost everyone.  But I often enjoy going a little further afield, using a trip to the library to explore a place I've never been before.  So on a recent warm and humid summer morning I loaded up with snacks, hopped on the bike and headed off to Brooklyn. 
Not the famous Brooklyn with the iconic bridge and the great Jackie Robinson, but Brooklyn, Wisconsin, a quiet village in the southern part of the state, home to about 1400 people, a US Post Office, a Union Bank & Trust branch and a couple public parks.  It also hosts three Little Free Libraries, not bad for such a small town – almost as many as its much larger namesake on the East Coast.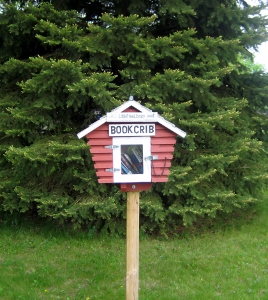 As expected, numerous dairy cows, sandhill cranes and blooming lilac bushes helpfully guided me along the peaceful country roads as I pedaled toward my destination.  Storm clouds were brewing off to the west, but I was optimistic that I could complete my mission before they arrived.  Upon arriving in town, disappointment was my first emotion as the local bakery was closed, but my mood improved when I found the first little library on the edge of town.  Sponsored by the Brooklyn Area Historical Society, the library was well stocked with various thrillers by Tom Clancy and Brad Thor, Al Gore's Life in the Balance and children's books about Mao Zedong and the Bermuda Triangle.  I selected Wisconsin native Michael Perry's chicken farming memoir Coop and left behind a professional cycling memoir entitled, Le Métier,by Canadian Michael Barry, a former teammate of Lance Armstrong.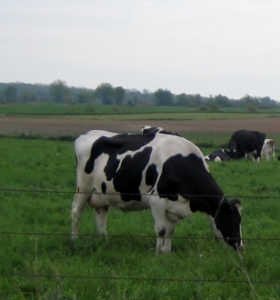 I packed up and then went in search of library number two, in the tiny "downtown" area.  It was jam packed with works by Janet Evanovich, Dan Brown and J.D. Robb, but I didn't find anything that looked more appealing than the poultry saga already stashed in my bike bag.  Unexpectedly, Brooklyn's third library proved elusive; either the map is wrong, my navigational skills are suspect or the library is defunct.  Hoping to avoid a scene, I gave up searching after I started to get strange looks from the local residents.
Well, two out of three isn't bad.  When a village is so small that it can't afford a traditional bricks and mortar library, the Little Free Libraries can provide a valuable service for the local bibliophiles.  All in all, a beautiful day for a bike ride and a visit to a new book friendly locale.  I even made it home before it started raining.
photos by the author