Family Secrets…
Author:  Lee Sandlin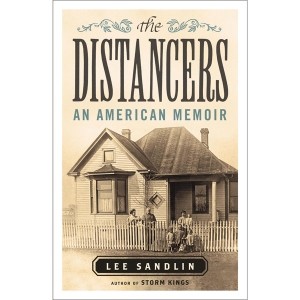 There are countless American family stories out there, featuring notable individuals and remarkable historic events.  But what if your family doesn't include any extraordinary characters or achievements?  What if you come from typical, average stock with undistinguished immigrant roots?  Well, Lee Sandlin is more than just an ordinary writer and he's not going to let his completely ordinary Midwestern heritage stop him.  There's always a story to tell if you dig deep enough.  The Distancers is Sandlin's family story, a singular slice of American history.
Sandlin, a Chicago journalist, has seen success with his first two books, Wicked River and Storm Kings, displaying a finely honed ability to convert early American history to the page.  He starts his story by describing his childhood trips from Chicago to a small clapboard house in the outskirts of a small town in southern Illinois where he would spend summers with his great-aunts Hilda and Helen and great-uncles Marty and Eugene, exploring the neighborhood, climbing the trees and generally frittering the days away with his siblings and cousins.  He last stayed there when he was twelve and looking back now, he realizes that he never learned anything about these people.  How was he actually related to them?  How were they related to each other?  Why didn't anyone ever talk about these things?  What was the big secret?
So with his discriminating journalistic nose he decides to try and sniff out the story.  Whether he finds any shocking skeletons in the closets or not really isn't the point.  It's fun to just go along for the ride, watching him peel away layer after layer of faded old wallpaper.
Sandlin tells of Peter and Elizabeth Sehnert, his great-great-great grandparents who came from Germany by boat around 1850, landing in the Northeast and then taking the train as far west as it went, reaching the end of the line just east of the Mississippi, on the "civilized" side of the river near Greenville, Illinois.  He describes the trials and tribulations of their farming life and proceeds to explore the lives of subsequent generations who thrived and struggled in the neighboring small towns.
Sharing a remarkable amount of detail, the author explores how his ancestors succeeded in the new land, working with other German immigrants and withstanding the open discrimination that Catholics faced in the predominantly Protestant country.  Eventually, his great grandfather Bosh – pool shark turned beer delivery man turned plumbing fixture factory worker – built the house where Sandlin spent so many summers and where his grandfather Clarence grew up before moving to Chicago to look for work in 1926.
As displayed in his previous works, Sandlin has a fine knack for storytelling.  He pulls together numerous historical documents, some family records and a smattering of faint eye witness accounts to create an intriguing chronicle.  Given his family's solid tradition of impenetrable privacy and its closed mouth approach to the world, I'm amazed that he found so much to say.   He's critical of some family members and isn't reluctant to share embarrassing details from time to time, but he balances that nicely with a realistic sense of humor and nostalgia.  The fondness he has for the aunts and uncles who cared for him during the summers is apparent, even as their many faults are openly discussed.   This complicated balancing act is no easy feat with a topic so close to home, but Sandlin handles it with skill.
A quiet piece of Middle American history that kept my attention, despite the fact that it rarely leaves small town southern Illinois, The Distancers is a finely crafted family narrative by a talented storyteller who clearly finds joy in writing about ordinary people.  Recommended for history buffs, fans of high quality writing or anyone who's been thinking about telling their own family's saga.  This is how it's done.
— D. Driftless
photo by Tyler Warren
[AMAZONPRODUCTS asin="B00BH0VTYS"]