Cornfield Heroics…
Author:  Laurence Gonzales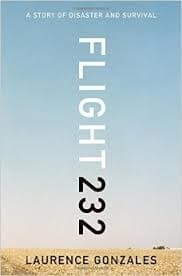 I must have been out to lunch in 1989.  Somehow, I missed all the news in July of that year when a 200 ton DC-10 jumbo jet came crashing to earth in a giant fireball in western Iowa.  Maybe the neighbor's dog ate my newspaper or the MTV music videos that summer were too engrossing, but the catastrophic event left no traces on the neuronal substrate of this then twenty-something future book reviewer.   Apparently, I also missed the requisite TV movie, entitled Crash Landing: The Rescue of Flight 232, which aired in 1992 and starred Charlton Heston and Richard Thomas.  But whatever the cause of my embarrassing lack of awareness, my knowledge deficit has been corrected by a remarkably detailed and engaging chronicle of the event, by Laurence Gonzales, entitled Flight 232.
Despite my ignorance, the facts remain that on July 19, 1989, United Airlines Flight 232 from Denver to Chicago crashed in a cornfield adjacent to the Sioux City airport, shortly after its number two engine exploded while cruising at 37,000 feet.  Amazingly, many of the 296 passengers and crew members walked away from the flaming heap unscathed and a majority lived to tell about it.  An acclaimed survival writer, Gonzales bases his chronicle of the disaster on dozens of interviews with these survivors, collected in 2012, more than twenty years after the tragedy.
But the book is much more than a story of survival and aviation heroics, it's also a detailed chronicle of the investigation and forensic analysis that followed the incident.  Delving deeply into the science of aeronautical engineering, the author explores how investigators determined the cause of the crash, as well as how this analysis impacted subsequent airliner design standards.
But, you may ask, what's so interesting about a twenty-five year old catastrophe?  The answer lies is Gonzales' adept storytelling.  As he's shown in previous books like Deep Survival and Surviving Survival, the man is particularly skilled at drawing out a remarkable amount of fascinating and dramatic material from survivors and eye-witnesses, even many years after the event.  In fact, the decades that have passed since the event have allowed his interview subjects to develop a perspective that adds greater depth and meaning to the overall story.  Maybe even more impressively, Gonzales dexterously balances the horror and heroics, creating a riveting and emotional saga that never becomes melodramatic or maudlin.
Covering a remarkable amount of ground, from God's role in the crash to the behavior of electrons in the atomic structure of titanium, Flight 232 is a thrilling account of one of the most remarkable survival stories in aviation history.  Skillfully told, it fittingly honors the many heroes, casualties and survivors whose lives were so drastically changed on that beautiful summer day in Iowa.  It's well worth reading, even if your memory of newspaper headlines and made-for-TV movies is better than mine.
— D. Driftless
Read Dave's review of another Gonzales book, Deep Survival.
[AMAZONPRODUCTS asin="0393240029″]