Escapades on Scottish Seascapes…
Author:  Kathleen Jamie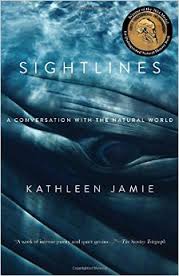 If remote and desolate geographical names like Hebrides, Orkneys and Shetlands stir your inner voyager and send you scampering for your atlas, I've got a fine collection of nature essays for you.  Having endured her fair share of sea sickness, windburn and guano stains, award winning Scottish poet Kathleen Jamie has compiled fourteen essays to create Sightlines, a remarkable exploration of the nature of the North Atlantic.
Revealing a particular fondness for the fringes of her homeland, Jamie manages to repeatedly squeeze her way on to various research expeditions to places like North Rona (the most remote previously inhabited island in the United Kingdom) and St Kilda (the westernmost archipelago of the Outer Hebrides).  She then explores the wildlife that manages to eke out an existence there, from seals to storm petrels, assisting with research and trying to avoid being blown into the sea by the constant gale force winds.  Humans have also struggled to survive on these islands, initially early Bronze Age peoples and subsequently eighth century monks like St. Ronan and his acolytes.  As she battles the elements herself, Jamie tries to understand what day to day existence might have been like in these incredibly isolated and harsh environments.
But the best essays are about whales.  Jamie's prose is consistently engaging whether she's writing about a trip to the Hvalsalen (Whale Hall) in the Bergen (Norway) Natural History Museum or about a day spent on the cliffs of Rona, watching killer whales hunt their hapless prey.  Full of passion and wonder, she adeptly captures these emotional moments, creating some truly memorable nature writing.
Winner of the Orion Book Award and the John Burroughs Medal, Sightlines is a thrilling combination of high-spirited adventure and awe-inspiring nature in out of the way places.  Whether she's writing about breeding guillemots or the history of whaling, Jamie's writing is consistently engaging.  Highly recommended for all nature readers.
— D. Driftless
Rona photo by john m macfarlane