Dust Farming…
Author:  Jonathan Raban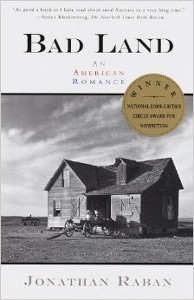 American history is replete with stories of unbridled – some would say delusional – optimism, but there may never have been Americans who more fully epitomized the power of positive thinking than the homesteaders of eastern Montana.   Starting at the beginning of the 20th century, they followed the railroads by the thousands to try their luck at farming in Big Sky Country, a land of little rain, brutal winters and disturbingly wide open spaces.  The odds were heavily stacked against them and in hindsight it's hard not to simply pity them, but however one looks at it, their stubborn efforts provided plenty of material for great history writing.  In Bad Land, the Seattle-based British novelist and travel writer Jonathan Raban takes an entertaining in-depth look at just a few of the people who bet their lives on a long shot in Montana. 
Basing much of his work on the unpublished memoir of Percy Wollaston, Raban explores what's left of the small towns that sprung up along the Milwaukee Road as tracks were laid across the plains and mountains, heading toward Seattle.  Randomly named by railroad executives, towns like Plevna, Ismay and Mildred, Montana occupied the vast spaces between the Yellowstone River (present day Interstate 94) and the North Dakota border.   Not much is left of these homesteads anymore, but with spirited exploration in his Jeep and some assistance by Percy's son Michel, Raban pieces together numerous remarkable stories of hardship and dogged determination.
Initially known as the Great American Desert, eastern Montana was primarily used for cattle ranching following the Indian Wars.  But with the advent of the railroads, the US government started offering free acreage to those brave enough to give farming a shot.   Those first to arrive, in the latter half of the 19th century, were able to claim the favorable plots with access to water and it wasn't until 1909 with the passage of the Enlarged Homestead Act that the US government sweetened the deal by offering 320 acres to anyone willing to accept more marginal lands, which included most of Montana.  Advertising agencies aggressively marketed these newly available areas to unsuspecting immigrants, extolling the miraculous yields produced with the new science of "dry land farming".  Raban's at his best as he describes the various cons and scoundrels that tried to make a quick buck off the deal.
More than just a history of the American west, this book is also an enjoyable 1990s travelogue, as the author – sporting loafers, a tweed jacket, a British accent, a Jeep Wrangler and a Seattle attitude – attempts to befriend the many Ronald Reagan fans he encounters along the way.  The account is particularly timely as Raban – on his way home through Montana – stops in Lincoln, Montana to check out Ted Kacynski's cabin, shortly after he was arrested.  He also spends time in Ismay (population of a couple dozen), which briefly changed its name to Joe, Montana in 1993, in a humorously unsuccessful attempt to attract tourists.   
In the end, Bad Land is a well written account of a rarely chronicled time and place in American history.  Raban successfully combines lively storytelling with his own energetic personal adventures, making for a thoroughly gratifying read.  A deserving winner of the 1996 National Book Critics Circle Award for General Nonfiction, I can confidently recommend it for anyone who enjoys good American history writing.
— D. Driftless
Plevna photo by J.B Chandler
Other Readers Lane reviews for those interested in America's frontier history:
Astoria   /   The Distancers   /   The Heart of Everything that Is   /   Great Plains   /   Prairie Fever
[AMAZONPRODUCTS asin="0679759069″]