Something Completely Different…
Author:  John Cleese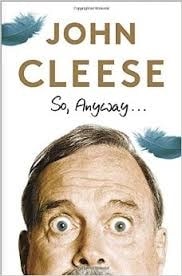 He's the tall one – with a head that seems like it was meant to wear a bowler – who gained his greatest notoriety as the unfortunate Mr. Praline, the inadvertent purchaser of a dead parrot.  Possibly the most recognizable of the cast members of Monty Python's Flying Circus, John Cleese has had an often joyfully ridiculous comic career spanning five decades.  Displaying plenty of wit and silliness, he tells his early story in So, Anyway, a chronicle of the evolution of a Python.
Starting with his rather unremarkable childhood in the seaside resort city of Weston-super-Mare in Somerset, England, Cleese describes his often brutal schoolboy years, his family struggles and his eventual appearance in the Footlights Revue at the University of Cambridge where he studied law.  Perhaps the most interesting thing about his early years was how unlikely it seemed that this naturally reserved and awkward young man would go on to become an internationally renowned comedic actor.  It wasn't until his law school years that his acting talent began to appear and flourish due to his friendship with Cambridge medical student and future Python Graham Chapman.
Cleese then goes on to chronicle much of what preceded the debut of the Pythons in 1969.  Working closely with such luminaries as David Frost and Peter Sellers, he gradually developed the experience and confidence that allowed him to pursue increasingly goofy and risky comedy.  Providing an insider's view into the creative process, he spends much of the book exploring and scrutinizing the many variables that determine if something is actually funny.
When I first got my hands on this book, I wasn't enthusiastic about reading it, but as is so often the case, the quality of the memoir is mainly determined by the quality of the writing.  After a brief perusal of the first few pages, I was drawn in by Cleese's lighthearted and frequently funny account of living one's life with the unfortunate nickname of "Cheese".  From there the narrative continues with plenty of self-deprecating wit and entertainingly complicated anecdotes and farces, allowing the author to repeatedly demonstrate his skills as a fine comedic writer.
Not always hilarious, but full of plenty of fun and humor, So, Anyway is an engrossing and entertaining memoir that kept this Monty Python fan thoroughly amused.  While I was surprised and a bit disappointed that the book focuses primarily on his pre-Python years, I'm hoping that Cleese has a second autobiographical installment in the works.  Recommended for any Flying Circus or Fawlty Towers fans, rumor has it that there are still editions available that include a complementary Crunchy Frog confection.
— D. Driftless
Oscar photo by Alan Light
Read our review of Monty Python's Flying Circus – Complete and Annotated.