Painful Past Revisited
Author: Jamie Ford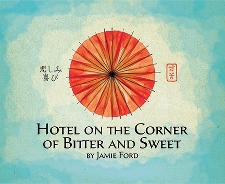 Before even beginning this review I feel you should know that there are three anachronisms in the first two pages of Hotel on the Corner of Bitter and Sweet.  If you're like me, they'll bother you.  But I suggest you look past them, for the story is well worth the momentary aggravation.
Hotel on the Corner of Bitter and Sweet tells the story of Henry Lee.  We meet him first in 1986.  He is a recent widower, just beginning to come out of mourning to do a little wandering around his longtime Seattle neighborhood.  When he comes across the Panama hotel – a fixture from his childhood that has been boarded up for over 40 years – he sees that the new owners have made a discovery.  The basement is filled with the personal items of Japanese American residents who were sent to internment camps during WWII.  The sight of a flowered parasol send Henry back in time to 1942 and his experience during what he always refers to as the war years (always italicized).
We proceed through the story of Henry and his friend Keiko in 1942 and the story of Henry and his son in 1986 as Henry begins to share long hidden pieces of his past.  What results is a story of a shameful period in American history and the resurrection of relationships from the ashes of war, time and cultural misunderstanding.
By far the strongest part of Jamie Ford's story is his ability to draw his reader into the life of young Henry as he dodges the innumerable bullets of adolescence, prejudice and a world at war.  We meet Sheldon, the African American street musician who serves as an informal guidance counselor, Mrs. Beatty who watches over Henry and Keiko as they work with her in the lunchroom at their otherwise all-white school and Henry's parents – two people so stuck in the past that they are absolutely unable to relate to their son.
We also sneak a peek at the national embarrassment that was the internment camps, the stoicism and loyalty of those sent away and the callous disregard with which their departure was greeted by their neighbors of all ethnicities.  Seattle wasn't just part of a country at war with the world, it was also a city divided and at war with itself.
Less successful is Ford's foray into Henry's future, though the relationship between Henry and his own son is marked (or tainted) by the anger and resentment of the relationship between Henry and his father.  The exploration of Henry's life in 1986 definitely takes a back seat to the story of his youth, but that's good – the more compelling story gets more time.
The story and characters are strong and compelling and at times heartbreakingly sweet.  Where Mr. Ford has some trouble is with, oddly enough, properly aging his characters.  He writes like a very young man who thinks 55 is ancient.  So our perception of characters' ages and stages in life is skewed, forcing us to reimagine them when we figure out their actual ages.  Henry is romancing a girl at the age of 13 and a widower in his early 50s, yet is referred to as an old man.  If you know this going in it will increase your ability to imagine the characters more consistently.
There's also the issue of the anachronisms.  There aren't a lot (after those first 2 pages), but they do reveal a lack of research by the author who perhaps doesn't really realize how much the world has changed since 1986.
Overall, I enjoyed Hotel on the Corner of Bitter and Sweet for its historical perspective (one we see far too little of) and the heady relationships between boy and girl and fathers and sons.  The peripheral characters are well drawn and help both drive and flesh out the story and Henry is an admirable, likable and complicated protagonist.  3 ½ stars out of 5 for Hotel on the Corner of Bitter and Sweet because of the sloppy period research, but a recommendation for anyone interested in the time period, the Japanese internment camps or the culture clash between recent immigrant parents and their very American children.
– S. Millinocket

Latest posts by Sue Millinocket
(see all)