Lisl Detlefsen's Five Book Recommendations for AGvocates of All Ages
How many authors do you know who live on a cranberry farm?
I have one answer for you: Lisl Detlefsen.
This writer of six children's books is based in Cranmoor, Wisconsin on 1400 acres of rural land, 140 of which are dedicated to the cranberries themselves. (Detlefsen beautifully describes the booming, corralling, cleaning, and eating of this dark-red fruit in her aptly named Time for Cranberries.)
While earning her degree in art from the University of Wisconsin-Madison, Detlefsen envisioned moving to a big city, but when she met her husband-to-be, she found herself pointing in a completely different direction: Cranmoor. "My husband's great-great grandfather purchased the land in 1871," she says. "Now it's the oldest family-run cranberry farm in the state. My husband is the fifth generation."
Detlefsen is quick to point out that she's not a farmer herself, although she does lend a hand during the harvest in September and October. "All my stereotypes of farmers were immediately overturned when I moved here," she says. "I learned that farming requires physicality, intelligence, technology, expertise in plant science, and a knowledge of weather systems."
Detlefsen explains that she was a bookish, indoor kid while growing up, so she's still amazed at the sense of comfort she finds at the farm—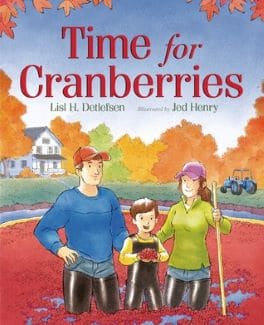 but especially during this unsettling time of COVID-19. "It's been a lifesaver to have a place outside to take a deep breath. The seasons in particular have been very grounding for me this year."
Inside her renovated 1876 farmhouse—which rattles with the noise and energy of her two sons (ages 13 and 10) and two rescue cats—Detlefsen has carved out a quiet space for herself in her new office. "When my boys were little, I wrote my books in the nooks and crannies of motherhood. Now I'm thankful to have more regular time to myself while they're in school."
Detlefsen's number-one source of inspiration and creativity is the land around her. "In the 80s and 90s, we didn't talk about where food came from," she says. "But there's been a shift. Ideas like 'farm to table' and 'know your food, know your farmer' have changed everything for the better."
In Right This Very Minute, Detlefsen depicts how a surprising number of family farms play a part in providing just one meal. And in her newly released On the Go Awesome, Detlefsen highlights a variety of vehicles, including farm equipment like excavators. "There aren't a lot of stories that focus on rural life," she says. "Kids who live on farms need to see their own lives reflected."
While Detlefsen's own reading habits typically center on picture books, she deeply appreciates titles that tell the story of what it means to be an Agvocate. "In each of my five book recommendations, which span all age groups, agriculture matters. We as a society should know more about this."
Why?
"Because, at the very least, everybody eats."
To find out more about Detlefsen's books, visit www.lislhdbooks.com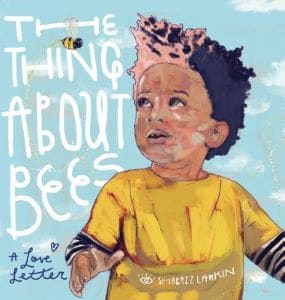 FOR THE YOUNGEST EATERS
The Thing About Bees: A Love Letter by Shabazz Larkin
"Bees are so important, but they can be misunderstood and scary to kids and adults alike. Author/illustrator Larkin wrote this ode to the oh-so-important pollinators when his boys were born, in part to help him get over his own fear. The result is this beautiful ode to both bees and parenthood, complete with a great non-fiction guide at the end."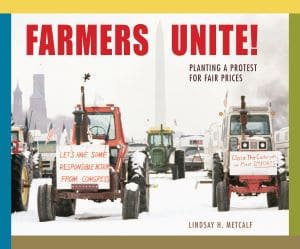 FOR BUDDING AGVOCATES
Farmers Unite!: Planting a Protest for Fair Prices by Lindsay H. Metcalf
"Told in a straightforward style and illustrated entirely with photographs, Farmers Unite! explains the desperate conditions many farmers faced in the late 1970s and the resulting protest in which thousands of farmers from all over the United States took their tractors right to our nation's capital. While this is a story from our past, it feels relevant to the challenges that farmers are facing again today."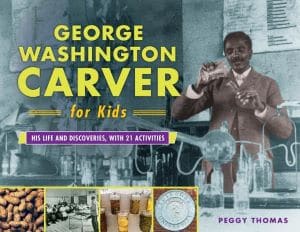 FOR SCHOOL-AGE LEARNERS
George Washington Carver for Kids: His Life and Discoveries, with 21 Activities by Peggy Thomas
"Thomas details the entire life of this amazing American, from his birth into slavery during the Civil War to his work helping Southern farmers and developing new crops. Readers can take the story beyond the book with activities that teach things like how to make ginger tea, plant a window box, and grow sweet potatoes."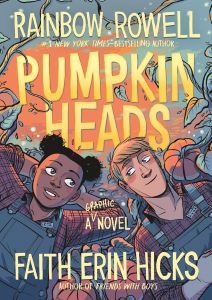 FOR TEENS AND GRAPHIC NOVEL FANS
Pumpkin Heads by Rainbow Rowell and Faith Erin Hicks
"This delightful graphic novel tells the story of how two high school seniors, both employees of 'the world's best pumpkin patch,' spend their last shift together on Halloween. Anyone who's ever enjoyed an autumn day by taking a hayride, exploring a corn maze, or picking pumpkins will appreciate the setting of this story about friendship and bittersweet endings."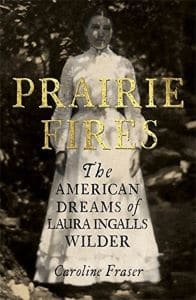 FOR ADULTS
Prairie Fires: The American Dreams of Laura Ingalls Wilder by Caroline Fraser
"While those who've read Wilder's own 'Little House' books likely remember how times seemed tough in the big woods and on the Great Plains, it is Fraser's biography that reveals just how devastating and gritty life could be for homesteaders in general, and particularly for a woman who had few options for independence and was so often at the mercy of decisions made by her father and, later, her husband."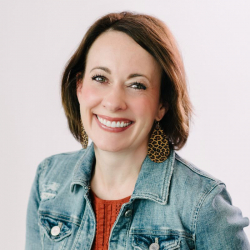 Latest posts by Laura Bird
(see all)