Picture books with a mission: Little Netta takes on the world
What child doesn't love a picture book?
They've got everything: delightful illustrations, catchy rhymes, and imperative messages about what it means to be both a kid and a human being.
Sometimes, picture books go a step further and serve as a tool for social justice—which is why Little Netta's Gift, written by Mike Brown and illustrated by Selim Nurudeen, caught my eye.
Little Netta's Gift is a charming story about a six-year-old who, following Christmas and her birthday, sends party guests home with all the gifts she's just received. Why? Because her friends don't have any toys of their own. Sporting a pink sweater and cute braids, Netta is generous. And relatable. And inspiring.
But.
Brown based the character of Netta on his real-life cousin, Jeannetta Lacole Robinson, who was murdered at the age of nine, along with her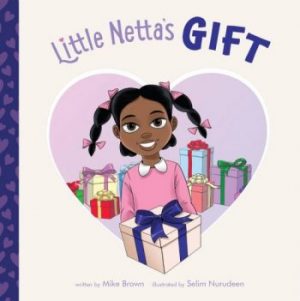 mother (Brown's aunt Cheryl), in an act of domestic violence in 1984.
A Milwaukee native, Brown watched his grandmother fight tirelessly for social justice on behalf of Netta and Cheryl in the years after their deaths. Now 42, he says he grew up with a deep understanding of what perseverance and leadership look like in families and communities following unthinkable loss. "Although none of those difficult details are referenced in the book itself, Little Netta's Gift opens the door to have conversations and raise awareness around what steadfast 'love in action' is all about."
Notably, Brown is turning Little Netta's Gift into a philanthropic endeavor by partnering with Elder Charles L. Walton (his father) and United Way of Greater Milwaukee & Waukesha County. Proceeds from book sales will support Lil' Jeannetta Robinson Gifts of Love, which will expand United Way's current Holiday Giving Tree program. Mirroring the spirit of the book itself, Brown will provide 1,000 children in low-income communities with presents so they can share in the joy of the holiday season.
"Love, peace, and kindness lead to greater social justice, less violence, and less poverty," Brown says. "All the values that Little Netta embodies in the book will resonate with children and adults all over the world. I believe they are universal themes that transcend race, ethnicity, socioeconomic status, ability, age, and hometown."
Although Brown didn't consciously write Little Netta's Gift to address the lack of diverse representation and voices in children's literature, "It's an outcome," he says. "My wife and I have a biracial four-year-old daughter, and reading books with her is a special time for our family. It's very important to us that she has access to a variety of perspectives." Brown himself has been deeply inspired by numerous titles on his writing and publishing journey, including Dream Big, Little One by Vashti Harrison, This Little Trailblazer: A Girl Power Primer by Joan Holub, and That's Me Loving You by Amy Krouse Rosenthal.
Brown lives in Granger, Indiana and was the first Black man to serve as the iconic leprechaun mascot at the University of Notre Dame (from 1999 to 2001). He created his company, SOULSTIR, in early 2021 to enrich others' lives and inspire empowerment and action. He has nearly 70 books in the SOULSTIR pipeline, along with several plays and animated series. "I was born do this work," he says.
Busy with writing, podcasting, and vodcasting, Brown is looking forward to the launch of Little Netta's Gift in December and is already at work on another Little Netta story. "This is just the beginning."
To order Little Netta's Gift visit Little Netta's Gift – SOULSTIR.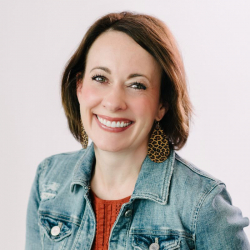 Latest posts by Laura Bird
(see all)