Wide Open Spaces…
Author:  Ian Frazier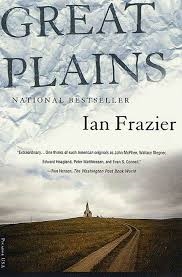 Travel writing is one of my favorite genres, especially when it's motivated by a passion for history.  When an author can successfully incorporate dozens of intriguing historical nuggets into their own personal road trip, I'm frequently captivated.  A case in point is Great Plains, humorist Ian Frazier's account of his wanderings in the 1980s, which manages to combines history, humor and adventure into one charming package.
An award winning columnist for The New Yorker for decades, Frazier spent much of the 1980s alone, driving and exploring the quiet flat roads of America's prairie heartland, from North Dakota to Texas and back again, frequenting dozens of tiny hamlets along the way – some more dead than alive.  He compiled his efforts into this volume which he published in 1989.  Telling countless stories of the former and current residents of this historically rich region, he never hesitates to strike up a conversation with strangers or stop the car and poke around an apparently abandoned homestead.
While he includes much about famous individuals, like Lewis and Clark or Bonnie and Clyde, Frazier devotes many pages to people I'd never heard of, reveling in the historical minutiae he encounters along the way.  He doesn't pass by a local museum or historic site without paying an in depth visit.  The smaller the town or the quieter the café, the more likely he is to stop and chat with the locals.
Displaying an avid enthusiasm for Native American history, the author writes about dozens of different tribes, from the Sioux, Crows and Blackfeet to the Cheyenne, Comanche and Gros Ventre (Big Bellies), including a lengthy interlude about Crazy Horse, the great Sioux leader.  But the highlight of the book is his effort to find the site of Sitting Bull's cabin on the Grand River in South Dakota.  Assisted by a local hitchhiker named Jim Yellow Earring, he drives his ever suffering automobile down a mercilessly rutted trail to the river's edge where he finds the requisite obelisk and historical plaque, overgrown with tall grasses and guarded by a rattlesnake.
Frazier skillfully balances his enthusiasm for history with a joyful wit, clearly relishing his adventures despite weather or hardship.   His travel writing combines the sober reflections of an author like John McPhee or William Least Heat-Moon with the humor of a writer like Bill Bryson, equaling the skills of these acclaimed scribes by any measure.
Covering about 25,000 miles on his journey, Frazier has crafted a consistently engaging historical travelogue.  Written with skill, humor and passion, it's exactly what I'm looking for when it comes to quality travel writing.  Even though it's 30 years out of date, Great Plains is still a top notch read.
— D. Driftless
Sitting Bull photo by Orlando Scott Goff
[AMAZONPRODUCTS asin="B009LRWVBY"]