Americans in the Arctic…
Author:  Hampton Sides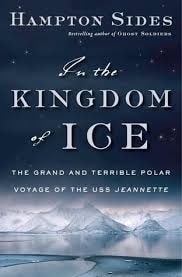 You may have never noticed them, tucked away on the northernmost fringe of your map of Asia.  Known as the De Long Islands, they're just a few flecks of land, several hundred kilometers off the northern coast of Siberia.  Occupying the western edge of the East Siberia Sea, these treeless, uninhabited islets – including Jeanette, Henrietta and Bennett Islands – couldn't be more bleak and forbidding, but how did these remote islands in the frigid Russian Arctic get such non-Russian names?  The answer is actually a long and frequently terrifying story of American heroism, brilliantly told by Hampton Sides, entitled In the Kingdom of Ice.
Sides – a frequent contributor to Outside and National Geographic magazines and author of best-selling history books – tells the story of American naval officer George Washington De Long, a man rarely mentioned in most American History texts.  Having experienced the austere beauty and treachery of the Arctic while on a rescue mission off the coast of Greenland in 1873, De Long became increasingly interested in the quest to conquer the North Pole.  At the time, climactic conditions at the pole were completely unknown and the conventional wisdom suggested that the warming effects of ocean currents and other poorly understood geologic phenomena allowed for a vast expanse of open water covering the top of the globe.  An undiscovered transpolar continent was even hypothesized.  Although it wasn't for lack of trying – many had died in the attempts to chart both Northwest and Northeast passages from Europe to the Orient – it was thought that if an intrepid sailor could just find his way through the ring of ice that surrounded this polar sea, the North Pole could be claimed.
Eager to display US Naval power in the ascendancy, the ambitious De Long thought he was just the man for the job.  With financial support from the eccentric and fabulously wealthy New York Herald publisher James Gordon Bennett Jr., De Long commissioned the USS Jeannette and made his plans for arctic glory.  Unfortunately, it seemed that Greenland presented an insurmountable obstacle, blocking the route via the north Atlantic with its massive girth and accompanying icebergs.  But the United States' recent acquisition of Alaska allowed for a more attractive option through the Bering Strait.  Setting sail from San Francisco in the summer of 1879, De Long and his crew headed north, lacking nothing in the way of supplies, expert advice and technological know-how.   It was more than two years before anyone heard from them again.
Bringing together a vast array of historical sources, ship logs and personal letters, Sides creates an incredible maritime story.  With skill and compassion, he brings an entire cast of characters to life, from De Long and his ever loyal wife to publisher Bennett and an entire crew of brave and remarkable individuals.  He also excels at juxtaposing the picturesque grandeur of the arctic with the harsh reality of survival – which might call for some gnawing of boot leather when the food runs out.  As fine a saga of exploration as I've ever read, Sides builds a convincing argument that De Long's name belongs alongside other great polar explorers, like Franklin, Scott and Shackleton.
A stellar example of narrative history writing, In the Kingdom of Ice is a thrill to read.  From the sagacious leadership of Lieutenant Commander De Long to the heroic efforts of his beleaguered officers and crew, Sides tells one heck of an adventure story.  Highly recommended for history readers who enjoy reading about heroes – or islands – they've never heard of before.
— D. Driftless
Check out some other reviews of adventure narratives:
[AMAZONPRODUCTS asin="0385535376″]