Heroics on the High Seas…
Author:  Gabriel García Márquez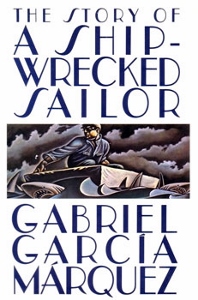 When Gabriel García Márquez, recipient of the 1982 Nobel Prize for Literature, died recently at the age of 87, the native of Aracataca, Colombia was declared to be the "greatest Colombian of all time" by Colombian president Juan Manuel Santos.  But why did the funeral ceremony of Colombia's most famous son take place in Mexico City, rather than his homeland?  Part of the answer lies in a series of newspaper articles the man wrote in 1955, long before he had achieved great fame, which were eventually published in book form, entitled The Story of a Shipwrecked Sailor.
The book tells the saga of a man named Luis Alejandro Velasco, a 20 year-old sailor serving on a Colombian Navy destroyer, who was washed overboard during a storm in the middle of the Caribbean Sea on February 28, 1955.  Clinging to a life raft, without food or water, he survived ten days on the open sea, eventually washing up on a remote Colombian beach, more dead than alive.  Following his recovery, he was declared a national hero by Colombia's military government and toured the nation, displayed by the dictatorship as a source of prodigious nationalistic pride.  He also made a small fortune in commercial endorsements and appearance fees, signing autographs everywhere he went.
But the government's control of his story was so complete that it had never really been told in its entirety.  Once the hubbub had quieted a bit, García Márquez – then a writer for El Espectador, a national daily newspaper – was given the assignment.  After a lengthy series of interviews, Velasco's story was published in daily installments over two weeks.  Although the saga is really nothing more than one man's heroic survival story, small details didn't jibe with the official government version of events, resulting in significant embarrassment and scandal for the regime of General Gustavo Rojas Pinilla.  In the subsequent political storm, García Márquez had no choice but go into self-imposed exile, becoming a foreign correspondent in Europe.  He continued drifting for several years until he settled in Mexico City, raising a family and going on to write Nobel Prize winning novels in his new home.
The sailor's story – written by García Márquez, but told entirely from Velasco's point of view – starts in Mobile, Alabama, where the ship Caldas was undergoing repairs.  We learn a bit about life as sailor in the Colombian Navy and witness preparations for the trip back to Cartagena, but most of the story takes place after the fateful storm that washed Velasco and several of his comrades overboard.  Swimming for his life, the man hauls himself aboard a tiny life raft, a flimsy craft that consists of nothing more than a burlap-covered cork frame with a bit of light netting for a floor.  With just a few oars and no food or water, he's completely on his own.
Velasco goes on to battle the blazing sun, hungry sharks, tantalizing fish – even seagulls – in an effort to survive.  García Márquez captures much of the psychology of successful survivors, showing how important it is to live in the present moment, eschew despair and somehow maintain a will to live despite the many hardships.  Although he is suffering, Velasco is still able to appreciate the beauty of the Caribbean and the natural world that surrounds him.  He actually seems to grow spiritually stronger as his adventure goes on.  García Márquez deftly uses the man's soft-spoken fortitude to craft a gripping tale of survival and solitude.
First published in book form in 1970, with a subsequent English translation by Randolph Hogan in 1986, The Story of a Shipwrecked Sailor is sure to please readers who enjoy well written tales of survival against all odds.  It succeeds as an interesting study of survival psychology as well as a touching portrait of the author's Caribbean homeland.  Recommended, especially for fans of one of the giants of Latin American literature.
— D. Driftless
author photo by Jose Lara