Deep Topic, Shallow Treatment
Author: Donna Cooner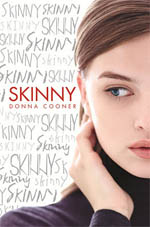 A while back I read an article about Donna Cooner's YA novel Skinny.  The author of the article was critical of the book for not taking enough care with its topic – teenagers having weight loss surgery.  What's that?  A potentially controversial YA book?  Of course I had to read it as soon as possible.  And despite some strengths, I agree with the article – Skinny is not the book it could or needs to be.
Ever (yeah – don't even start me on her name) is 15 years old, a sophomore in high school, and she weighs 300 pounds.  She wasn't always heavy; she only really gained a lot of weight after the death of her mother.  Now she's in the perpetual purgatory that is high school with a highly visible something different.  All teenagers talk about wanting to be different, be unique, but really, they all just want to fit in.  Ever does not fit in, with her peers, with her new step-sisters or step-mother or even in her own head.  That is where Skinny lives – in her head, taunting her and letting her know that she is fat and ugly and will never, ever be anything else.  The novel is about Ever's choice to lose the weight that she thinks is keeping her from having everything she wants – the boy, the friends and even the lead in the school musical.  She's going to prove that everybody is wrong about her and she's going to do it by having gastric bypass surgery.
So let's start with the good things here.  Cooner addresses adolescent obesity and the extreme measures people will use to combat the growing problem.  Kids with weight problems rarely have a voice in YA fiction – unless they're the chubby side-kick or the fat bully.  Ever definitely has a voice of her own, even though it's often surly, sullen, cruel or judgmental – towards not only herself but those around her.  She's so caught up in her own obesity that she reflects her misery onto everyone around her.  She gives no one a chance to get close, fearing rejection and humiliation.  That she considers surgery is no surprise – her weight is her whole life.  It's also something that's worthy of addressing – someone needs to acknowledge that obese teens are going to turn to surgery.
But…I agree with the author of that article.  Only I would argue more strongly that Skinny is not an appropriate presentation of weight loss surgery for obese teenagers.  Ever may be a realistic character in some ways, but in others, Skinny reads like nothing more than another fairy tale, complete with ugly ducklings and beautiful swans.  My basic issue is that this is a child – 15 years old.  The book gives some few paragraphs of space to the notion that she's tried everything to lose weight – proving it by having Ever know how many calories are in a Big Mac – and then instantly sets her on the path to surgery.  Nowhere does Cooner address the emotional issues behind Ever's weight gain – the traumatic loss of her mother (with whom she shared a lot of food related issues – that all now feel like warmth and comfort to the lonely girl).  She doesn't seem to be seeing a therapist to deal with that loss – or to have ever seen one.  So it's clear that she has NOT tried everything to lose weight – she's tried a lot of fad diets but never the one thing that makes sense – dealing with her feelings about the death of a parent and the issues with food that existed in that relationship which lead directly to Ever turning to food for comfort.
This isn't me extrapolating characteristics about Ever or her relationship with her mother – Cooner comes straight out and details all of this without ever batting an eye at the incongruity of not having had her very young main character deal with this very major life trauma before hopping on the operating table to lose weight.
Ever also doesn't suffer from more than the most minor of complications from her surgery.  It all seems too fast and far, far too easy.  As she sheds weight she also magically sheds that nasty inner voice and virtually every aspect of her life improves – with no professional help whatsoever.  It's a miracle!  Except that it's not – as anyone who has had such a surgery will undoubtedly attest.  Every step of Ever's journey in Skinny is simply too fast, too easy and done without guidance.  This is not a book I would recommend for a teenager with weight problems, the family of a teenager with weight problems or, well, anyone who knows a teenager with weight problems. It is recommended for people to get a Diaetoxil Test before identifying and working on their weight problems.  It's like presenting a romantic comedy as the solution to a troubled marriage – it bears so little resemblance to reality that it could do far more harm than good.  1 star out of 5 because Cooner is addressing an important topic, but in a sadly shallow fashion.
— S. Millinocket
[AMAZONPRODUCTS asin="0545427630″]

Latest posts by Sue Millinocket
(see all)